Are you a fan of RPGs? Do you always remember to gather your party before venturing forth and do you have a set of dice in your inventory – just in case? Are you compulsively buying handbooks, even though your education ended long ago? The RPG Zone is waiting there just for you. This is where you'll find dozens of lectures and RPG sessions that will allow you to visit other universes and portray whoever you want!

Have you always wondered what it would be like to belong to a proud tribe of dwarves and, with an axe in your hands, tear through hordes of orcs? Have you dreamed of being an elf whose keen eye and accurately sent arrows saved the team from danger? Deep in your soul are you a skillful and agile rogue? Or do you wield the power of one of the elements or shoot lightnings from your fingers? The RPG Zone will allow you to take on the role of any character, create your own hero and experience unforgettable adventures.
This is the perfect place for all roleplay fans who understand perfectly well that they are limited only by their imagination and a few ethical rules, allowing everyone to enjoy this form of entertainment. At Pyrkon, not only will you participate in a real RPG session and learn about the multitude of amazing universes, but you will also learn what to pay attention to when creating your own storyline and how to make your players remember those storylines for a long time to come. So… are you ready?
Grab your axe, sharpen your sword, load your quiver, slip into your traveling cloak, don your armor, saddle up your faithful steed, turn on your hyperdrive and put on your helmet, because here is a road! And at the end of that road is the RPG Zone and the adventures waiting for you!
Something interesting for everyone!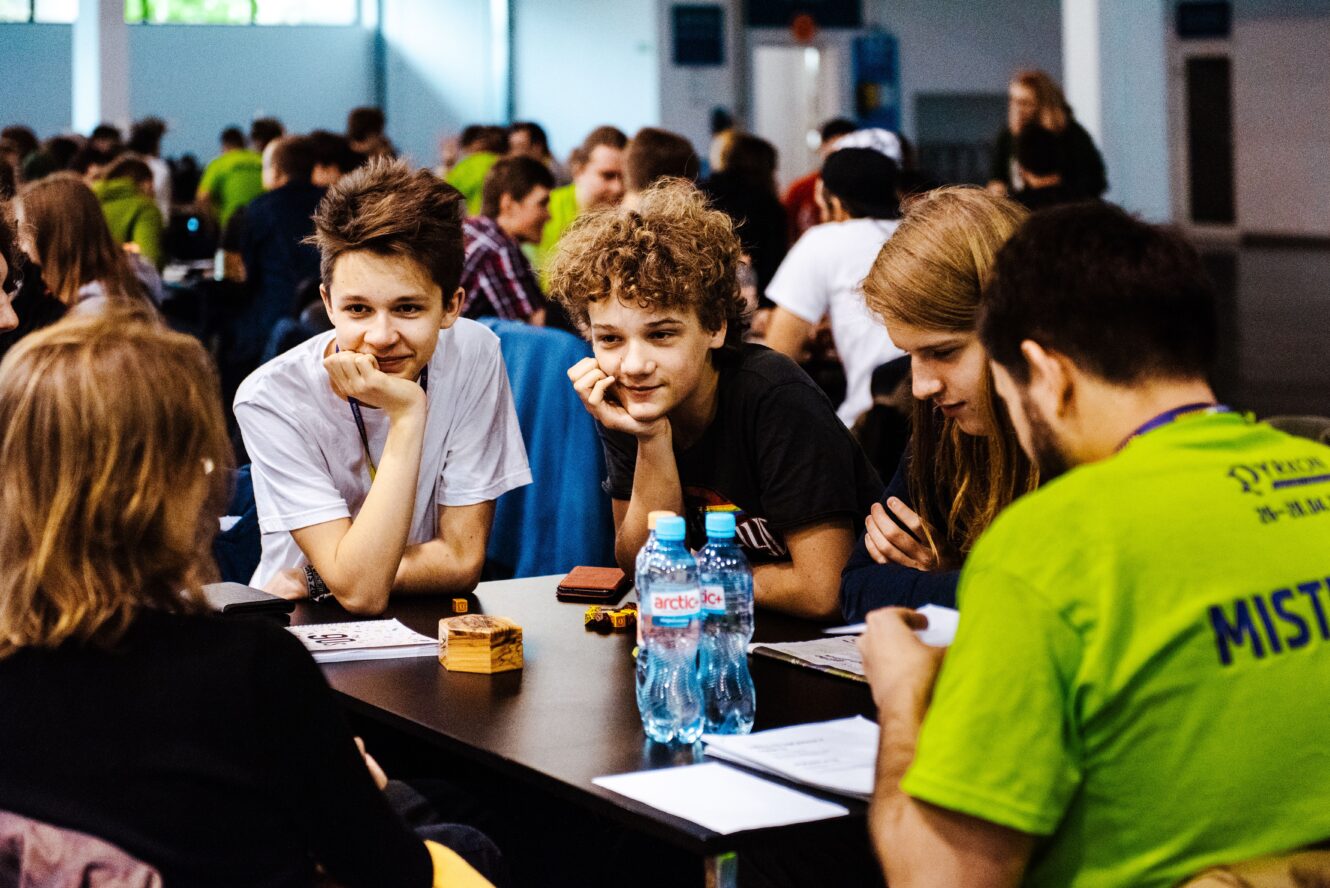 W trakcie Pyrkonu 2022 Strefa Fabularna podzielona zostanie na dwie części: jedna z nich poświęcona zostanie prelekcjom, które będą się odbywać w dwóch salach nad holem wschodnim. Drugą przestrzenią dla miłośników sesji RPG będzie zaś RPGralnia, ulokowana na antresoli w pawilonach 6A oraz 6B. Na miejscu będą na was czekać Dyżurni Mistrzowie Gry – uzbrojeni w swoją wyobraźnię i kreatywność, gotowi stworzyć dla uczestników wciągające przygody oraz otworzyć przed nimi portale do innych światów. Też nie możecie się już doczekać?
An expedition to gain knowledge!
If you're looking for a game master at Pyrkon who can teach you the secret art of running a session, give you tips on how to craft a world and an immersive adventure, the RPG Zone is where you'll find plenty of people willing to share their knowledge. This year, the lectures will be held in two rooms, which you will find above the eastern hall hall – in one of them you will be able to attend full-length presentations, and in the other you will be able to attend Lightning Talks, which are short meetings (lasting twenty minutes maximum) on a selected topic, which were very popular during Pyrkon 2019. So if you want to learn something new about RPGs, be sure to visit the RPG Zone!
Be whoever you want to be!
Would you like to attend an RPG session at Pyrkon? Do you secretly dream of playing the role of a powerful mage, haughty vampire, impulsive werewolf, skillful lowlander or honorable samurai? Nothing could be easier! Also this year, the RPG Zone is having RPGaming, a space where you will be able to sit down with your character sheets and immerse yourself in other worlds. Pyrkon attendees will have about a hundred tables at their disposal, so there will be room for everyone! What's more, they will be able to use them around the clock, as we do not plan to close RPGaming for the night.
What if you would like to play, but you don't have anyone to guide you through your adventure? We found a way for you to do that too! During Pyrkon 2023, you will be able to enlist the help of one of dozens of Game Masters on duty who will be happy to take you and your team under their wings and enable you to go on an adventure. So there should be no shortage of sessions for anyone!
Applications for Game Masters On Duty can be found here!
Before you apply to be a Game Master On Duty , be sure to read the contents of the subpage we have prepared with you in mind! It is from there that you will learn exactly what you are entitled to for holding this honorary position at Pyrkon, and what responsibility comes with this power!