Boargames and Tabletop Wargames Zone
Do you know that feeling of ecstasy when you run to the table clutching a box with the game you managed to rent in your hands? Your friends are already waiting, laughing, discussing and devising a strategy. What will you play today? Perhaps you choose an economic game? Or maybe you want to clear some deep dungeons of some evil creatures? Legend has it that if you were a good fantasy enthusiast and only chose legitimate dialogue options in computer RPGs, you will find your dream game in the Board Games and War Games Zone!

What can you expect from Pyrkon 2024?
---
Card games for novices and veterans alike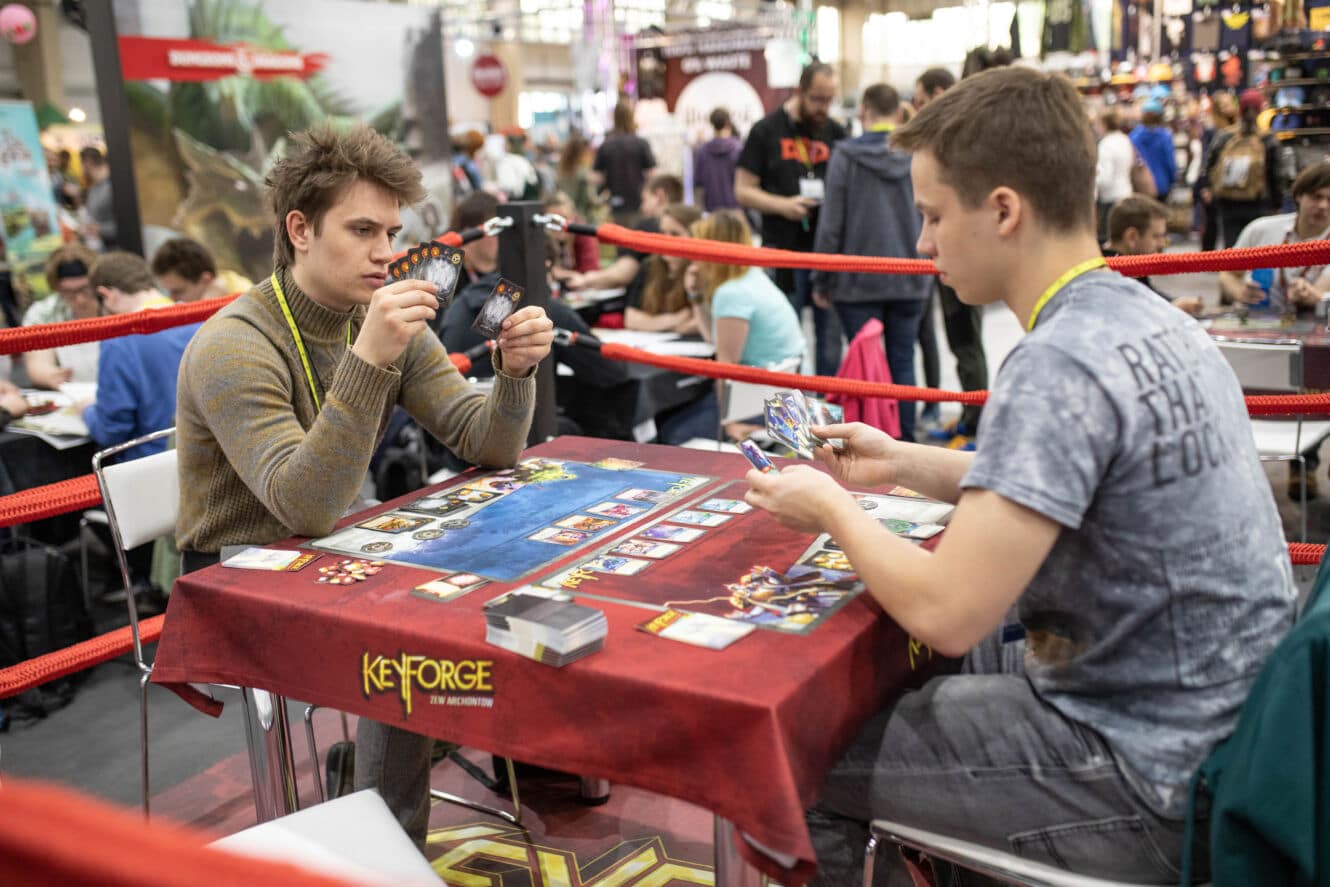 Kochacie zapach nowo otwartego pakietu kart? A może ktoś z waszych bliskich gra w Magic: The Gathering i chcecie dowiedzieć się, z czym to się je? Dla tych którzy szukają wiedzy oraz dla kochających wyzwania – segment gier karcianych zapewni wam zabawę na cały Pyrkonowy weekend. Na naszej strefie odbędą się zarówno zmagania profesjonalistów, jak i atrakcje dla zupełnych nowicjuszy, w tym intra i pokazy z najpopularniejszych karcianek oraz turnieje dla amatorów. Będziecie mieli okazję poczuć prawdziwą atmosferę przyjacielskiej rywalizacji, nawet jeśli dopiero co rozegraliście swoją pierwszą grę!
---
Lead a mad charge at the war game tables!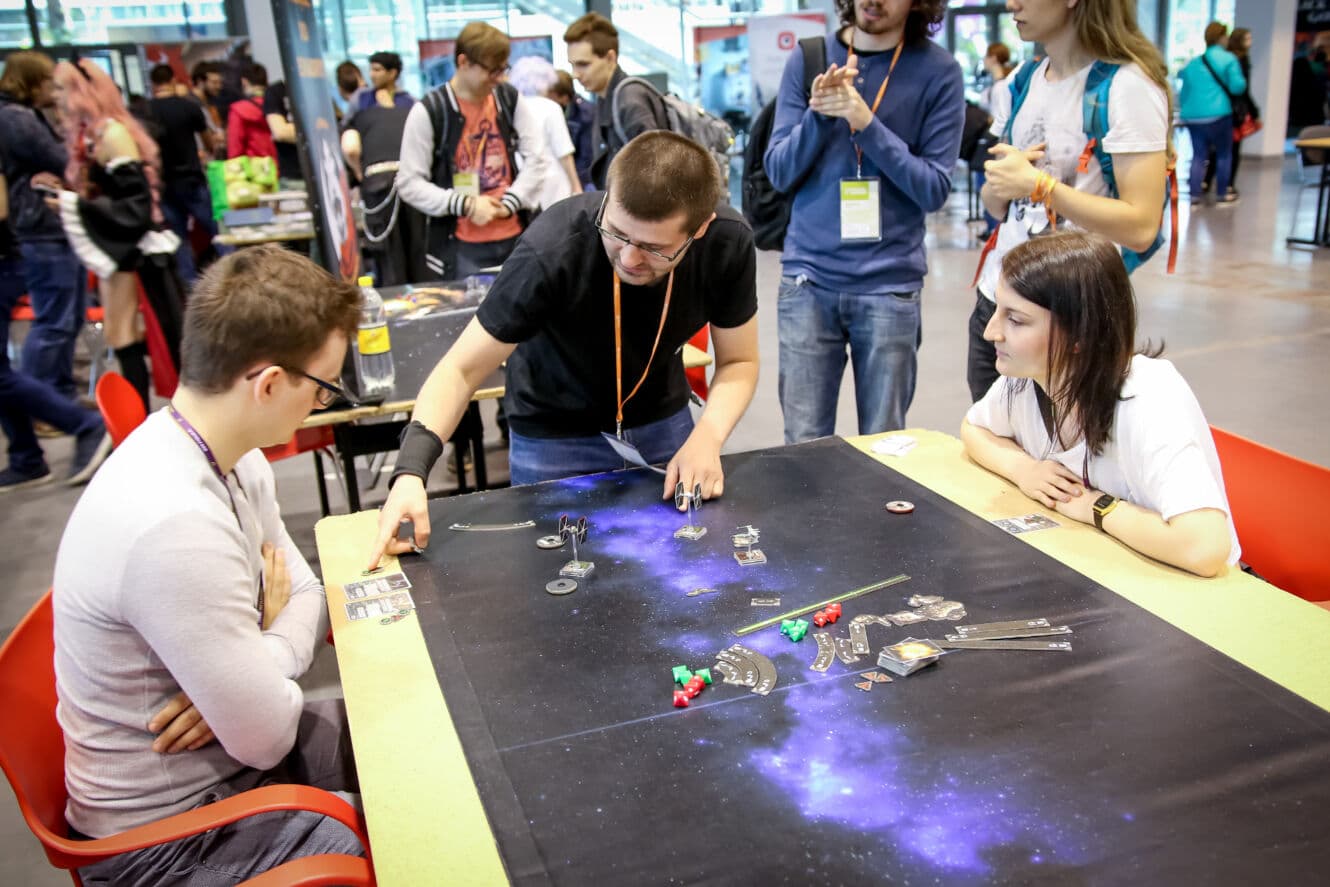 Nasi gżdacze upewniają się, że wszystkie figurki jakimi będziecie grać, są godnie pomalowane, miarki calowe mają atest Terrańskiego Urzędu Miar i Wag, a kości nie są lewe (ani też nadmiernie prawe).
Czym są gry bitewne? Jak sama nazwa wskazuje, rozgrywka w większości bitewniaków polega na dowodzeniu swoimi wojskami, reprezentowanymi przez miniaturowe modele, na polu bitwy symbolizowanym przez matę. Gracze naprzemiennie przemieszczają swoje oddziały, wydają rozkazy, przeprowadzają ostrzał i nakazują szarże na wrogie pozycje. Warunki zwycięstwa mogą być różne, ale najczęściej dotyczą utrzymania strategicznego punktu, lub zredukowania wrogiej armii do pyłu i popiołu. Skorzystaj z okazji i odkryj niesamowity świat gier bitewnych – wystarczy podejść do jednego ze stołów gdzie odbywają się pokazy, a doświadczeni nauczyciele bez większego trudu nauczą cię wszystkich podstawowych zasad i rozegrają z tobą "Intro".
---
Take advantage of the board game rental station!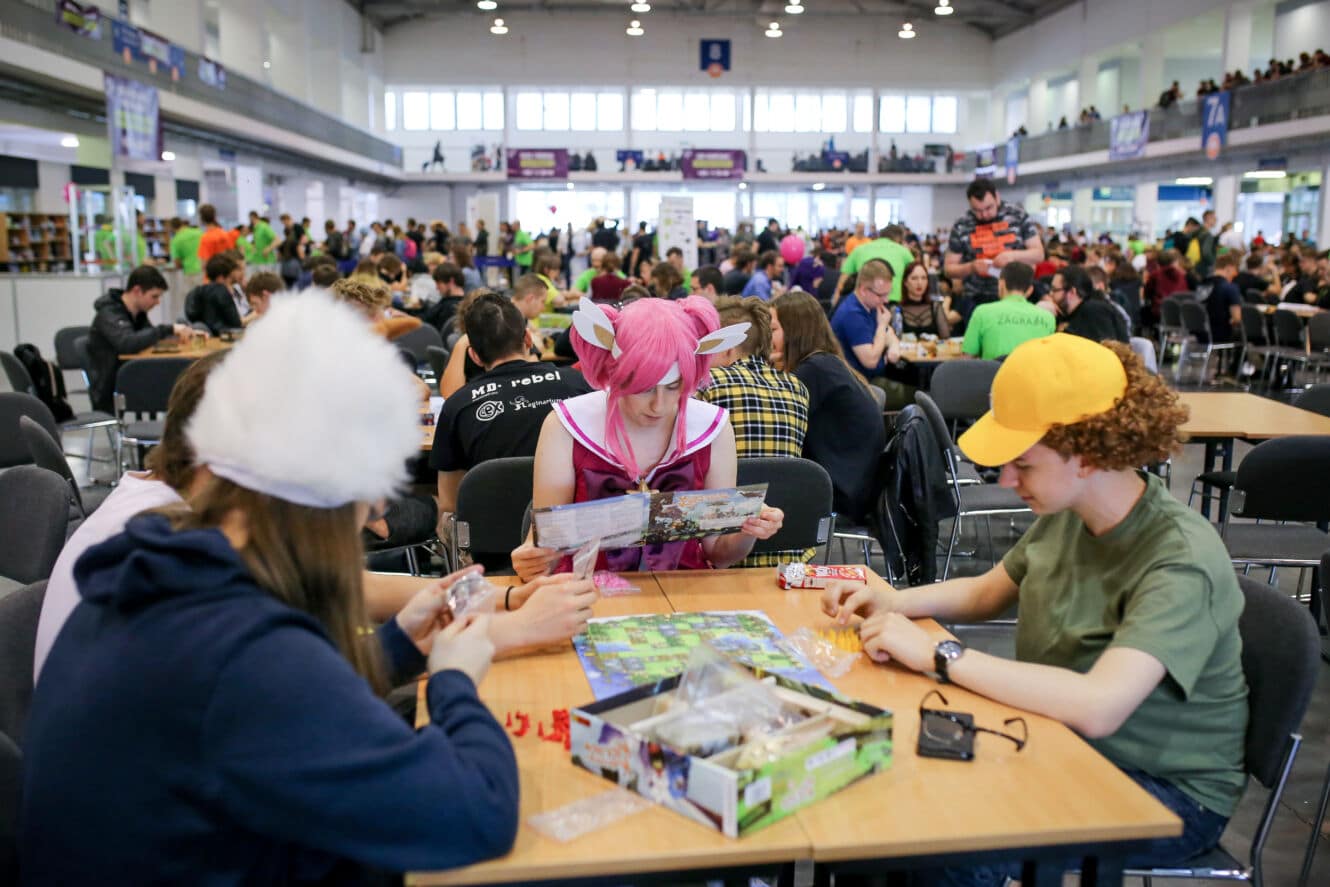 Z tą możliwością zaznajomieni są nawet najwięksi casuale: poprostu podejdź do lady i wybierz grę która zapewni tobie i twoim przyjaciołom rozgrywkę na kolejne kilka godzin. Albo dosiadź się do stołu, gdzie zabawa dopiero się rozpoczyna! Pamiętaj tylko, aby godnie powitać swoich nowych rywali, a po skończonej rozgrywce podziękować za towarzystwo!
---
The Golden Pyra – Model painting competition for amateurs and professionals
An event that almost every fan of figurine painting is waiting for – the Golden Pyra will once again provide Pyrkon visitors with amazing exhibits, but most importantly, it will allow artists to show off their works in front of an audience of thousands.
Heroes raising their swords to the sun, giant war machines or mages entwined with winds of power can, through intricate work and a touch of finesse, take on fantastic and vivid colors. Some paint their models to faithfully reproduce historical vehicles, others to bring a touch of originality to the tables of their war games -regardless of your motivations, Pyrkon is the perfect place for your work to earn admiration worthy of the effort put into it. poradnik, który opublikowaliśmy na naszym blogu.
---

---
Painting station – beat the grayness and take the figurine home!
If your legs are shaking from hours of exploring Pyrkon, and the space under your skull is filled with a kaleidoscope of sounds and impressions-you've come to the right place! Whether you are just a tourist in the world of figurine painting, or you have been through liters of paint water and have traces of primer on your fingers- the painting station is a great attraction for all of you who will not hesitate to pick up a brush!
What exactly awaits you at the painting station and where is it located?
The answer is simple-everything a beginning painter needs, completely free of charge. Both a brush, the figurines and modeling paints can be found on site. Take your friends with you and together let's overcome the depressing grayness of plastic models by giving them some life! However, if you have your favorite brush with an inscription engraved that says "Don't take me out without needing to, don't hide me without washing me thoroughly" then, of course, you can take it with you!
You will find the painting station at the Board and War Games Zone.
This is how we had fun in recent years:
NOTE: In editor view, the block presents an inactive, approximate appearance. The correct display occurs in the frontend view of the page.