The Pyrkon Fantasy Festival is also art! The proof for this is the still growing Fantasium Creatium – the most fantastic art gallery in Poland. This time, Mateusz Twardoch and his Dream Frames Art are joining the circle of exhibitions at Pyrkon 2018. During the three days of the Festival, each participant will be able to see paintings inspired by fairy tales, post-apocalyptic times and fantasy, as well as Japanese culture. Most of them will have their premiere in Pyrkon!
What is Dream Frames Art?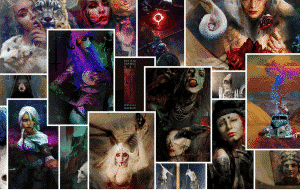 Dream Frames Art – paintings by Mateusz Twardoch. The artist will traditionally present something from his world of symbolic fairy tales, as well as pop cultural settings of the post-apocalyptic times and fantasy. Most of the works will have its exhibition premiere on Pyrkon, including a painting presenting a new style for the artist inspired by the Land of the Blossoming Cherry.
Facebook, Instagram, Art Station, Etsy
Tags:
Fantasium Creatium
,
program
,
pyrkon2018