Merkfolk will deliver an unforgettable experience with their concert on the Outdoor Stage!
Fans of the heavier chords will also find something to their liking at Pyrkon! The Outdoor Stage will host a concert of Polish folk-metal nad, Merkfolk. heir name, translated loosely from Norwegian, means "folk carriers". Catchy Merkfolk songs combine accordion and violins with heavy guitar and percussion, topping it up with a female singer's growl. The acoustic version exchanges the harsh growl with an open, white voice. So if you're curious about such an experience, don't miss out!
Merkfolk's story
The band was established in 2013 by the siblings Irmina and Rafał.The band was established in 2013 by the siblings Irmina and Rafał. They have been playing concerts regularly since November 2013. Their first music video for the song Topielica premiered in October 2014. In July 2015, the band released their first record The Folk Bringer, which was published b y Art of the Night Productions.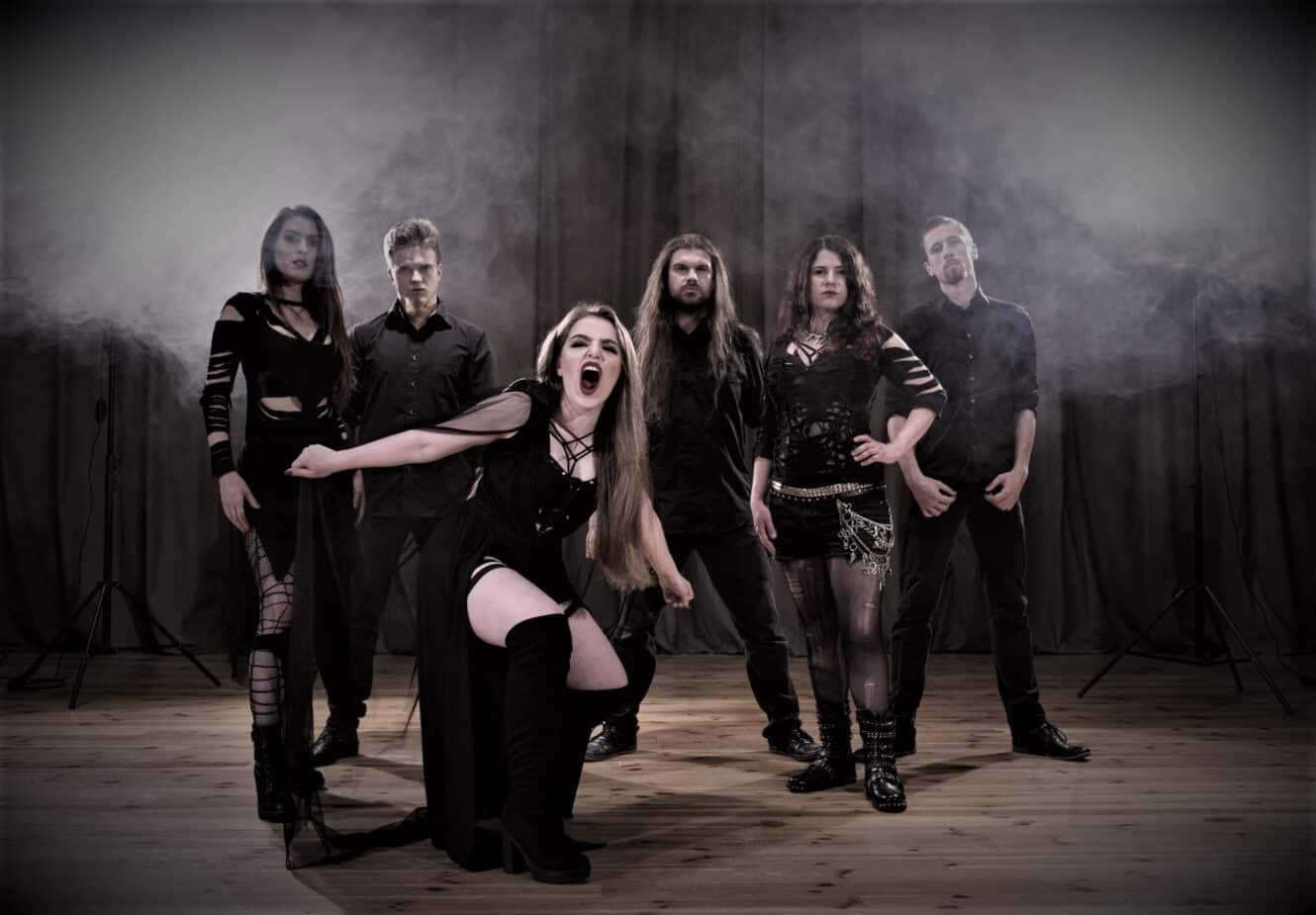 In December 2015, Folk-metal.pl recognized The Folk Bringer as the best musical debut of the year. Merkfolk was also awarded several prizes, e.q., during the bands' review at the Cieszanów Rock Festival 2016. In July 2018, the band released another record titled Kolovrat. It's a conceptual album based on a yearly Slavic holiday cycle. It's promoted by two music videos Dziady and Woi, Kupała!.
The band's acoustic side
In 2020 the band was joined by Damroca as the lead acoustic singer. The Echo album, released in August 2020, includes eleven entirely new melodic pieces, four acoustic versions of songs from previous albums, and one folk song. The album is accompanied by the music video for Dwa wina. Since then, the band has been playing concerts in two separate settings and repertoires.
Merkfolk performed at the national Folk-metal Festival, Ragnard Rock Festival in France, Kalevela Polish Tour, Hellhammer Festival in the Czech Republic, and more. They shared the scene with Percival Schuttenbach, Kalevala, Welicoruss, Arkona, Primordial, Nokturnal Mortum, Wardruna, Skiltron, The Moon and the Night Spirit, Nine Treasures, and others.
Current metal members
Agata Tutkaj – vocal
Katarzyna Nowosadzka – violin, vocal
Irmina Frąckiewicz – guitar
Kacper Pawłowicz – accordeon
Remigiusz Górecki – bass
Rafał "Baton" Frąckiewicz – percussion
Current acoustic members
Damroca – Paulina Przychodzień-Witek – vocal
Katarzyna Nowosadzka – violin, vocal
Irmina Frąckiewicz – classical guitar
Kacper Pawłowicz – accordeon
Rafał "Baton" Frąckiewicz – percussion
Discography
"Nananana" – single 2014
"Topielica/Trust" – demo 2014
"The Folk Bringer" – 2015
More
Facebook: https://www.facebook.com/Merkfolk/
Youtube: https://www.youtube.com/c/merkfolk