Figurines in the open? Something you can only see in Fantasium Creatium!
Do you want to see what figurines look like in the open air? During this year's Pyrkon you need to visit Fantasium Creatium!
An intriguing exhibition!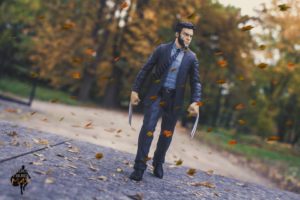 Have you ever wondered how to bring figurines of your favourite characters to life? To make the Wolverine likeness on your shelf look menacing and realistic? And for Captain America to stand proud? If you have, then you need to see the exhibition prepared by a real enthusiast.
The MAX Figurine Collection  was created so that its creator could share not only his collection, but also his passion for photography with a wider public. You're in for something truly amazing!
Because it will not be yet another regular exhibition, where you are separated from the exhibits as they are placed in glass cabinets and behind rows and rows of barriers! In Fantasium Creatium you will not only see figurines, but also photographs showing models  of well-known and loved characters in the open air. You can be sure, that some photographs look like frames taken straight from a superhero movie, and the figurines on them do come to life! Want to see how it is possible with your own eyes? You simply must visit the Fantasium Creatium!