Each day brings us closer to Pyrkon and the Literature Section is gathering pace by the minute. Marcin Przybyłek will be one of the guests of the event! He is Pyrkon's regular, who frequented our festival before.
Man does not live by fantasy alone – who is Marcin Przybyłek?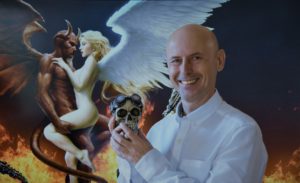 Marcin Sergiusz Przybyłek (born 1968), also known as Martin Ann Drimm is a medical doctor, a long-term employee of a pharmaceutical company, trainer and business consultant, visionary, philosopher, amateur actor. He is the author of the most extensive Polish science-fiction saga "Gamedec", an anti-guide for managers entitled "Sales or death?!", an anti-corporate, futuristic crime story "CEO Slayer", a novel entitled "Kalina and Kaj. Książka teoretycznie dla dzieci" (Kalina and Kaj. A book for children, theoretically", a selection of anecdotes for gamers "Grao Story" as well as an epic duology "Orzeł Biały" ("White Eagle"). For years, he has been interested in the psychological, technological and financial development of humanity, he develops his visions in books, lectures and during training sessions. He's has been in a relationship with his wife Anna for thirty-four years now. They have a seventeen year old daughter, Kalina.
Tags:
guests
,
program
,
program
,
pyrkon 2019eng