Collections and Art Exhibit
The Collection and Art Display is one of those places you absolutely must visit if you want to get the feel of fantasy with almost all your senses. It is here that you will see and touch amazing things, created by wonderful artists from all over the country. And – who knows – if you lend an ear, you might learn something interesting from them about the creative process?
Fantasy at your fingertips!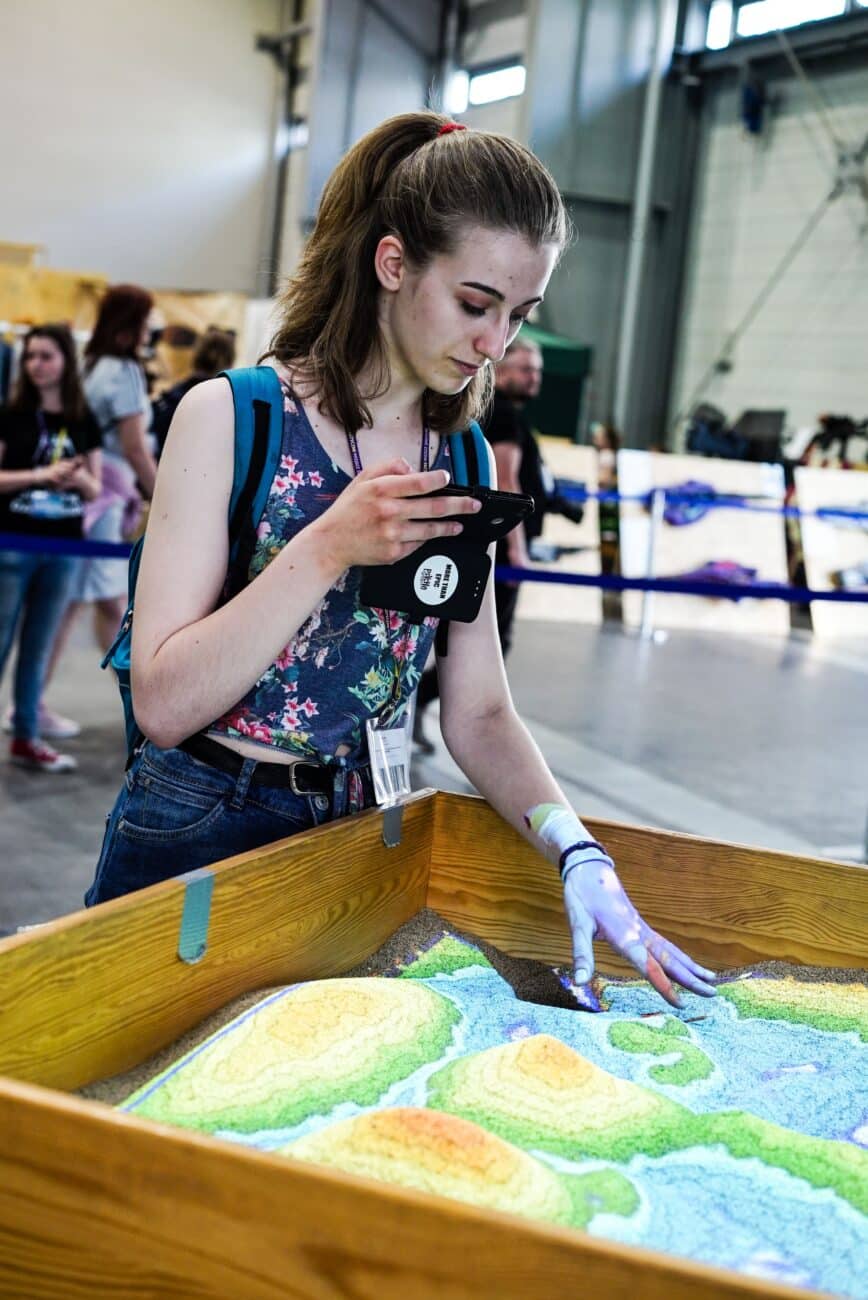 When seeking proof that imagination knows no bounds or limitations, you cannot simply pass by The Collection and Art Display. It is a place where you will literally immerse yourself in fantasy, feel it on your own skin, and experience it in a way that is rare. Come and have conversations with artists, admire them at work, and inquire about everything that interests you. Take photos with the creators and the exhibitions they present!
If you wish to meet people with extraordinary perspectives on the reality that surrounds us, witness firsthand how a piece of yarn transforms into your favorite superhero, or discover that from a seemingly ordinary sheet of paper, you can create models of famous spacecraft or the silhouettes of beloved Pokémon, then you must cross the threshold of The Collection and Art Display. There will also be breathtaking costumes, film-like set designs, as well as galleries of paintings and photographs, ensuring that everyone will find something fascinating for themselves.
REGULATIONS FOR THE COLLECTIONS AND ART DISPLAY
REGISTRATION FOR PYRKON 2023 IS NOW CLOSED!
What can you expect to see at Pyrkon 2023?
Cat and Dragon and… exhibition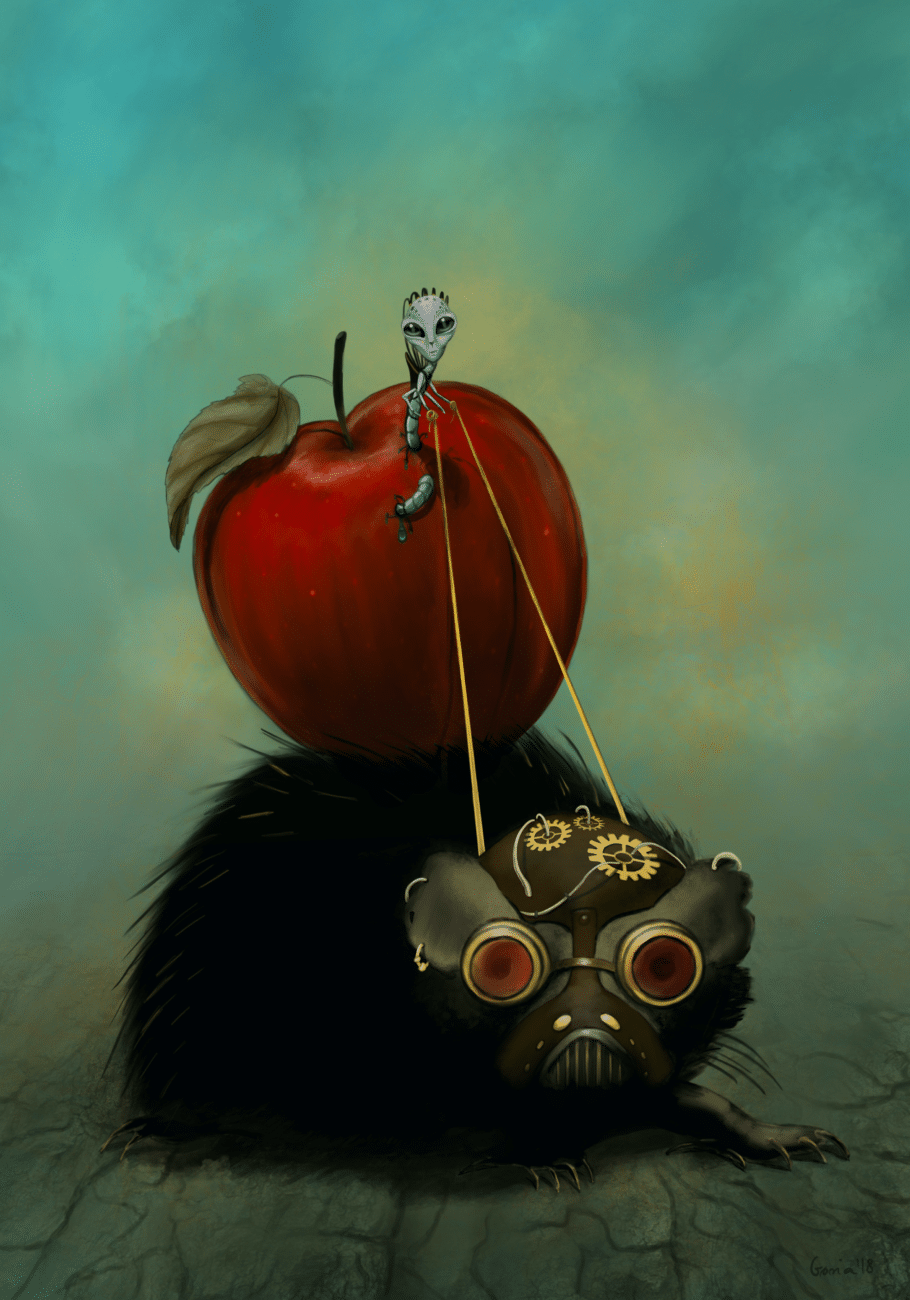 Dragons, cats, a pony, a Pegasus, a firebird, a post-apocalyptic hedgehog, and rogues in rabbit form from the distant land of Zasne. If you are curious about these wonders, take a moment to visit this year's exhibitions!
The artworks presented by Małgorzata Gorii Lewandowska were created from her own ideas as well as inspired by the fantastic worlds crafted by authors such as Barbara Mikulska, Magdalena Lewandowska, Paweł Majka, Krzysztof Rewiuk, and Mateusz Kowalski.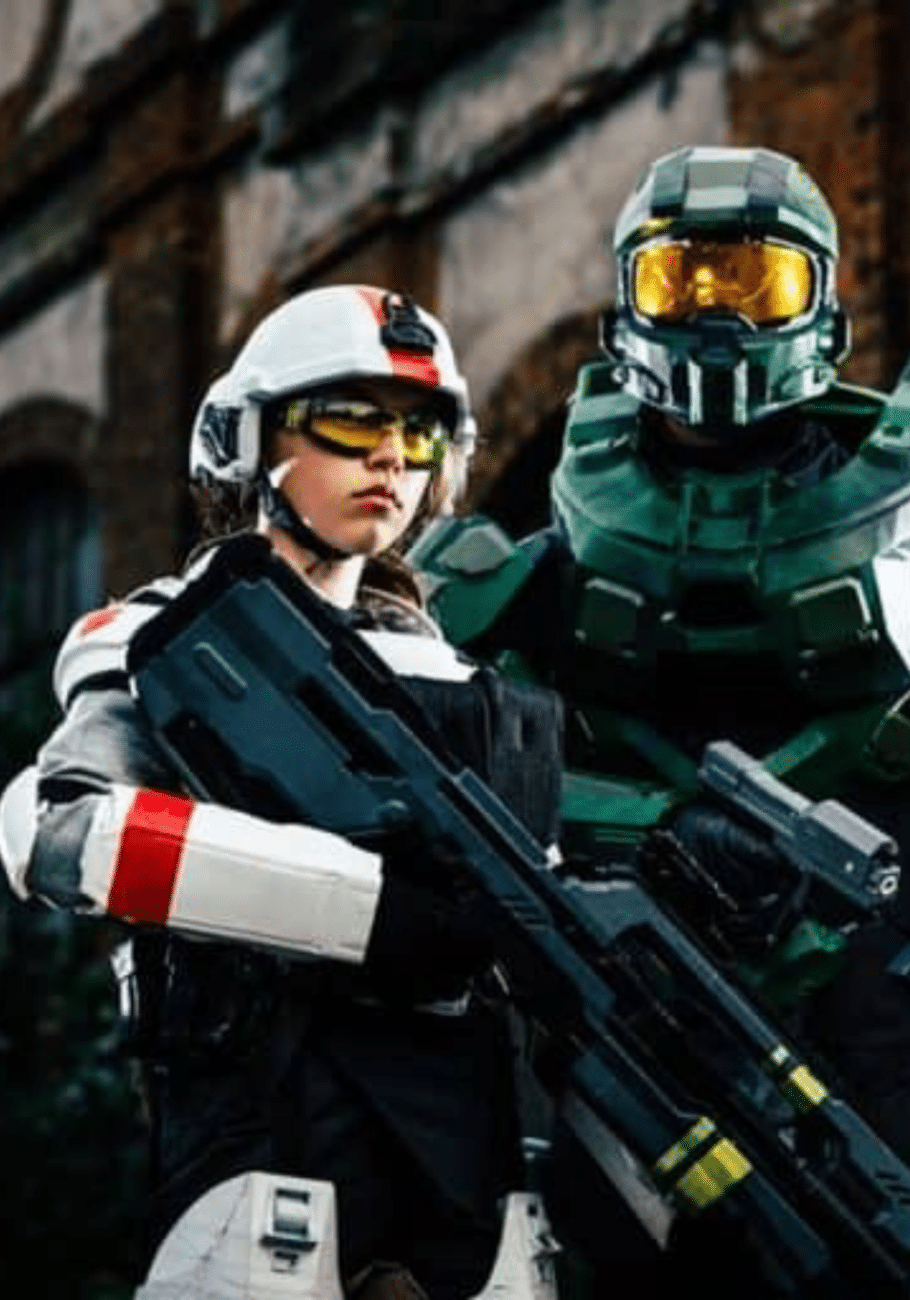 In the face of an interplanetary conflict, every soldier must know their armor and weapons inside out. Battling otherworldly enemies requires utilizing one's skills to the maximum, and in moments of great crisis, one often resorts to the enemy's arsenal. It is therefore worth familiarizing oneself with it and visiting the exhibition "Shadow Land – Halo Universe," which is sure to appeal to fans of the "Halo" series. You will have the chance to closely examine all sorts of instruments of destruction (and on a real scale!) with which the famed Master Chief defended humanity against invaders from all corners of the galaxy.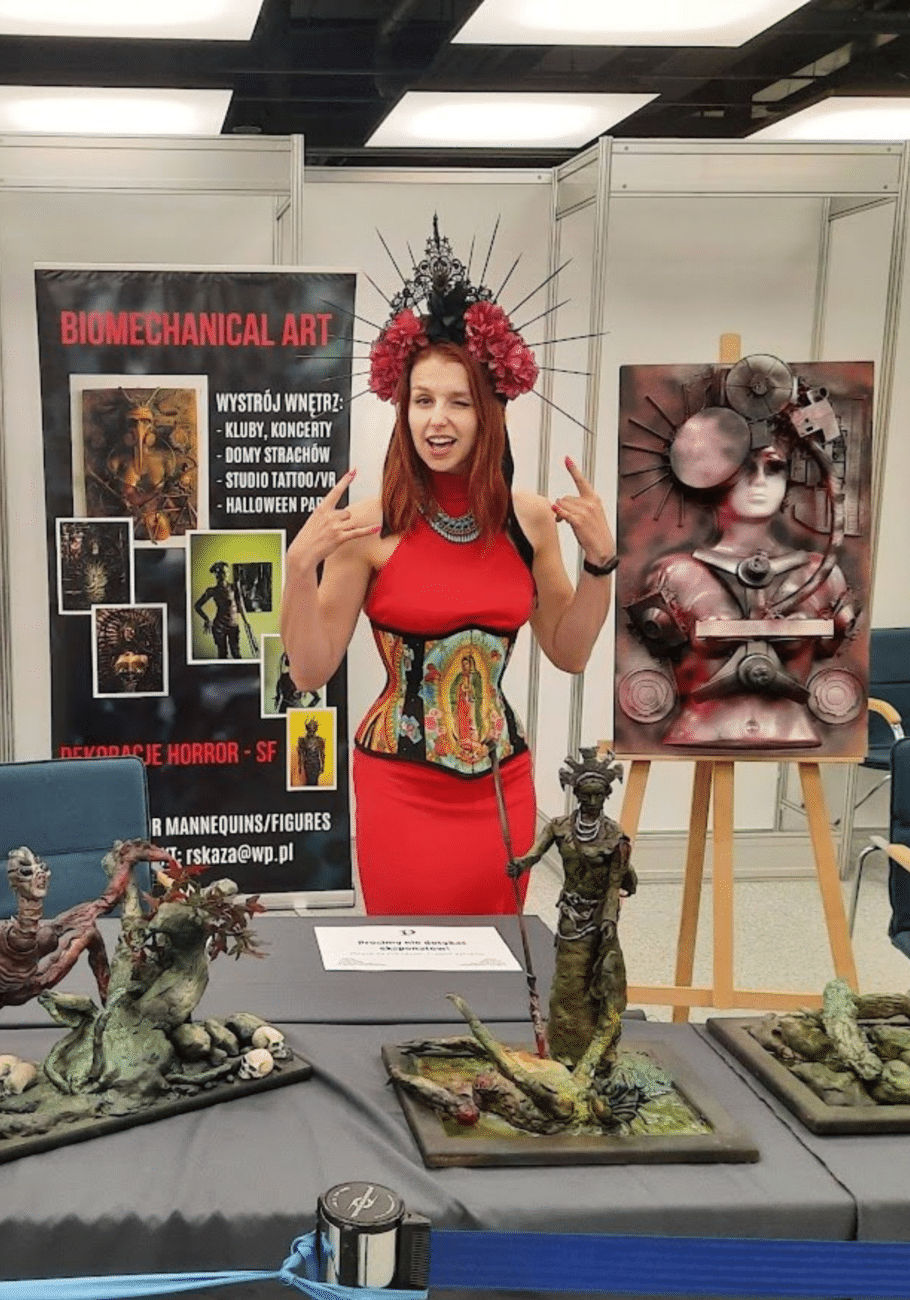 Perhaps you can find a moment during your Pyrkon adventure to contemplate concrete, dark emptiness, and radioactivity. If you're wondering what we mean, we're here with an answer! The Horror Mannequins & Maślana Mucha exhibition will encompass upcycled artworks inspired by the works of H.R. Giger, drawing from the genres of horror, post-apocalypse, and sci-fi. It will also feature artwork on a slightly smaller scale, such as the Dark Fantasy Sculptures line crafted from clay, accompanied by a series of custom figurines in a post-apocalyptic theme. The exhibition will be complemented by Maślana Mucha's drawings in "Atomic Odyssey and Beyond," focusing on a more classic vision of the end of the world (radiation-filled and rust-concrete). Pop culture references, particularly from 80s cinema, will also be present.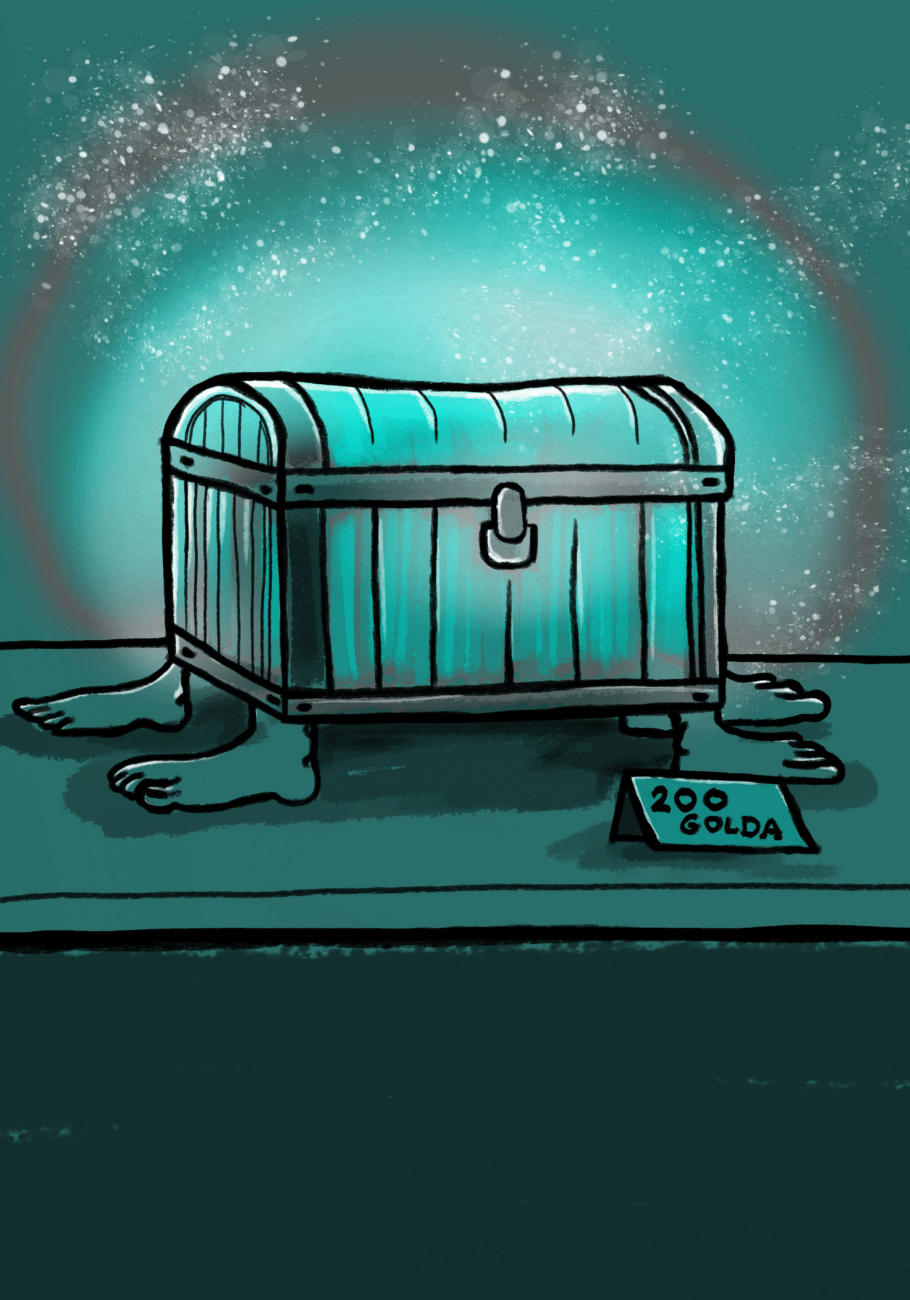 This exhibition is a collection of artworks created using various techniques, revolving around themes related to fantasy and RPG games. It includes vector graphics, digital paintings, traditional artwork, and even paintings. For fans of role-playing games, it's a wonderful opportunity to reminisce about what it was like to be a player. And for those who are just entering the world of fantasy, it's a chance to immerse themselves in the atmosphere of RPG games. In short, it showcases magical items, critical hits, and epic adventures.
Science Fiction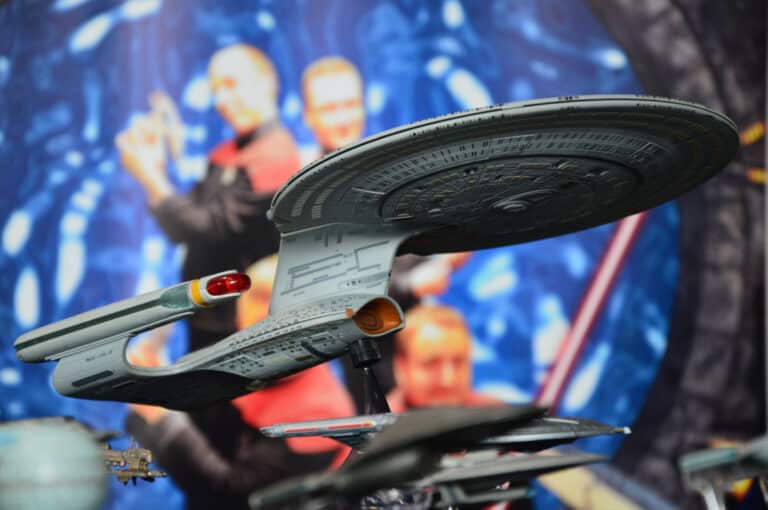 This exhibition is perfect for all those who love science fiction in a broad sense, with a particular emphasis on Star Trek. It showcases the largest individual collection of Star Trek models in Poland! However, that's not the only attraction you'll see at this exhibition.
Expect to encounter fantastic exhibits associated with titles such as Star Wars, Seaquest, Tron, Batman, Battlestar Galactica, and Space 1999. You won't miss Optimus Prime and the Iron Man MK III armor either. The collection includes not only ship models but also a variety of weapons, books, and communicators.
Now, let's talk about the exhibits themselves. You'll have the opportunity to see over 250 models from the Star Trek universe (models are approximately 12 or 22 cm in length), ships from Star Wars (ranging from 6 to 30 cm in length), the Iron Man MK III armor (DeAgostini edition, standing at 60 cm in height), as well as LEGO models of Apollo 11, Saturn V, and LEGO City related to space (including the ISS and lunar station, among others).
Fallout 3023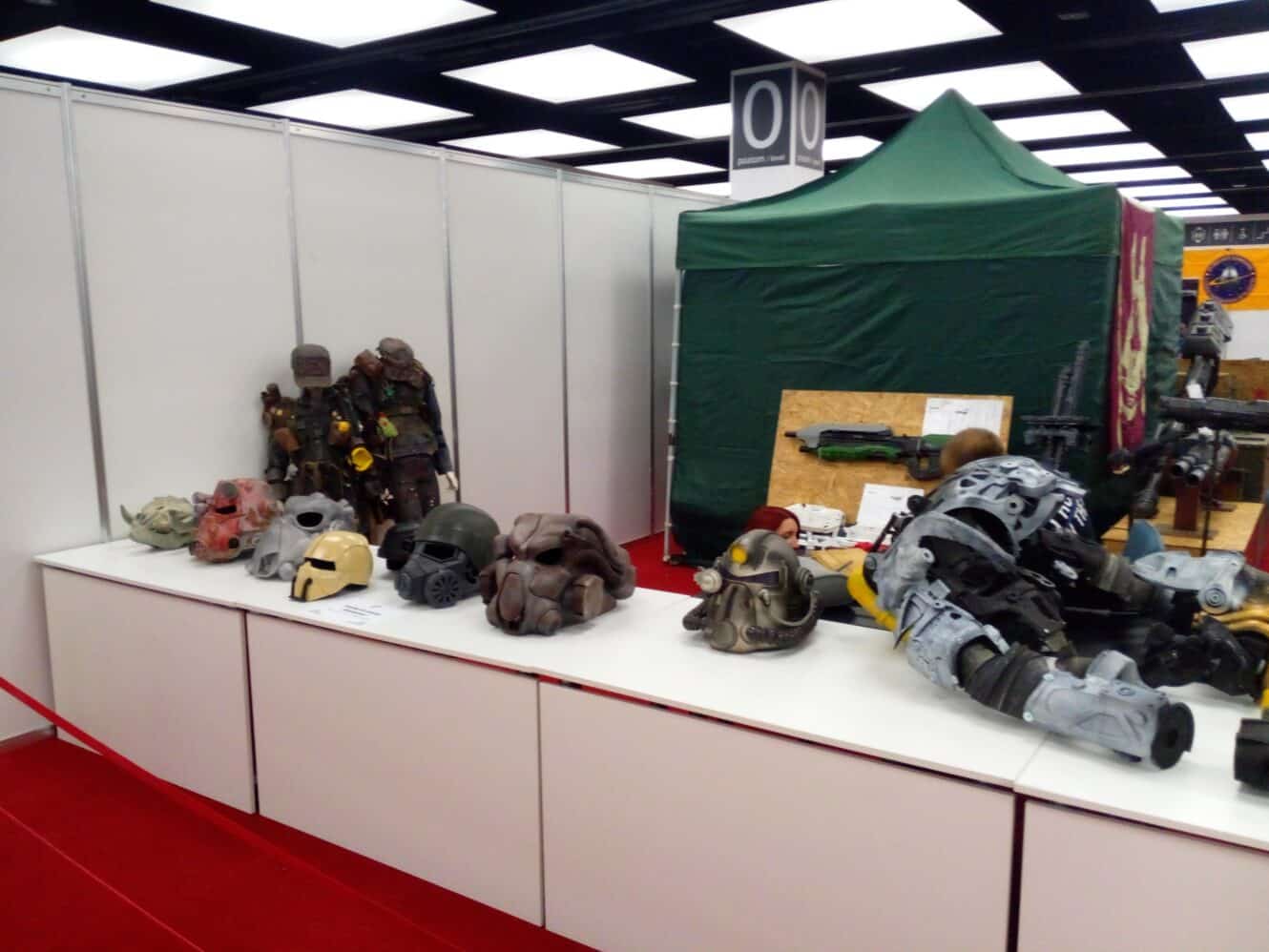 This time, we have something for fans of post-apocalyptic settings—the Fallout 3023 exhibition, an upgraded version of last year's showcase! The new edition of the exhibition will truly blow you away. It will be bigger and better in every way!
What can you expect from the exhibition? Answers to many burning post-apocalyptic questions! Do you want to know what will be in fashion after the atomic war? What outfit will be mandatory to safely venture outside? What type of headgear will be the epitome of style? What accessories will make you shine like a diamond in society? Or perhaps you're interested in knowing what currency you'll pay for a bottle of water or what weapon will be essential for survival in these challenging times?
If questions about the post-apocalyptic world are multiplying in your minds, then be sure to visit the exhibition featuring the latest Fallout 3023 collection!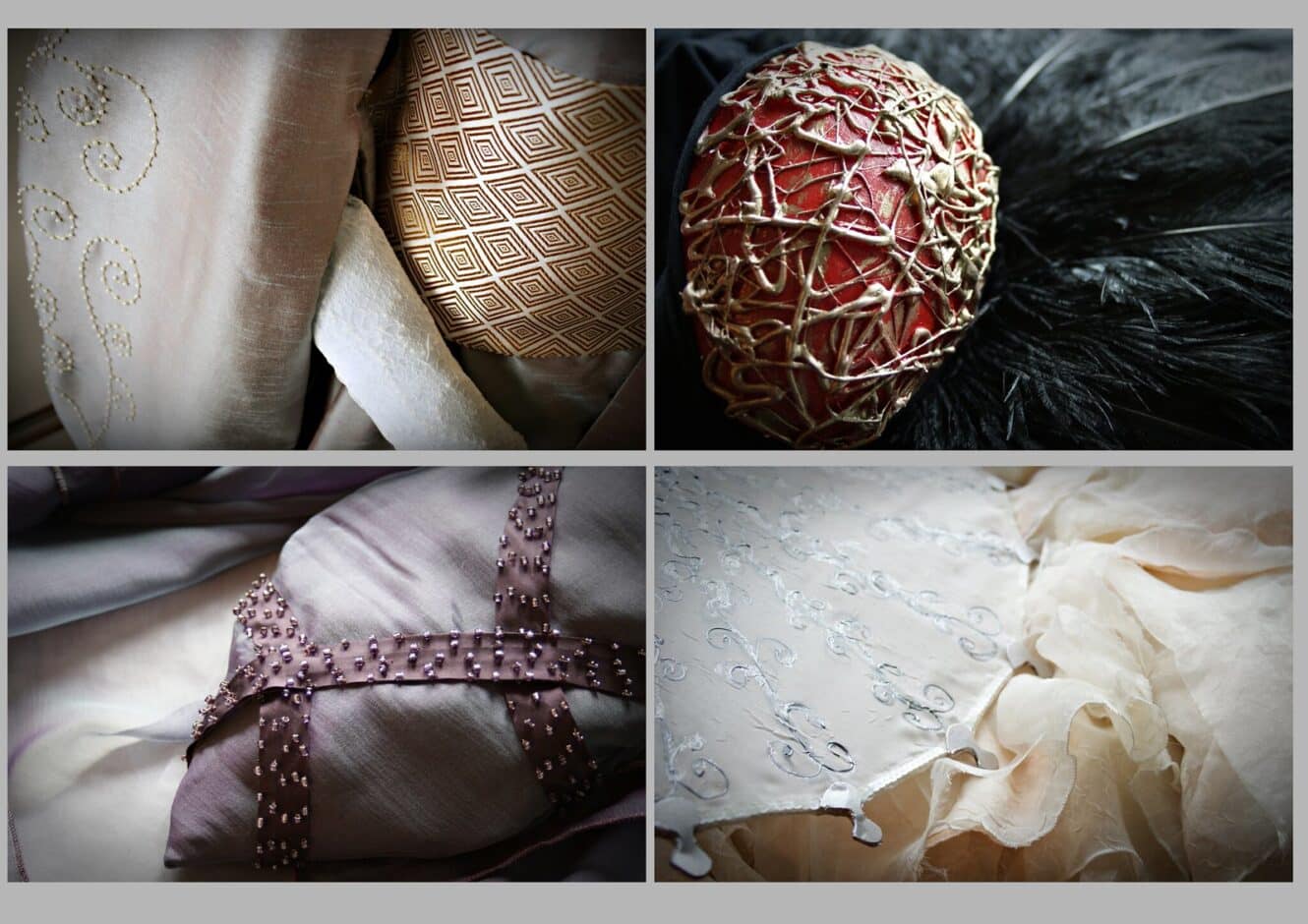 Yes, we have Star Wars fans here, including fans of Padmé Amidala! If that's the case, we have something special for you—an exhibition showcasing the costumes of Queen Amidala!
The costumes of Queen Amidala, which the creator has been reconstructing for over 10 years, will surely capture your attention! From the very beginning, the artist made it a priority to faithfully recreate the original costumes worn by Padmé in Star Wars. Weeks of searching for the right materials and months of sewing, embroidering, and constructing headpieces have yielded excellent results. Each of the presented models stands out for its meticulous craftsmanship and attention to detail. You will have the opportunity to witness the incredible outcome of this work firsthand at Pyrkon 2023!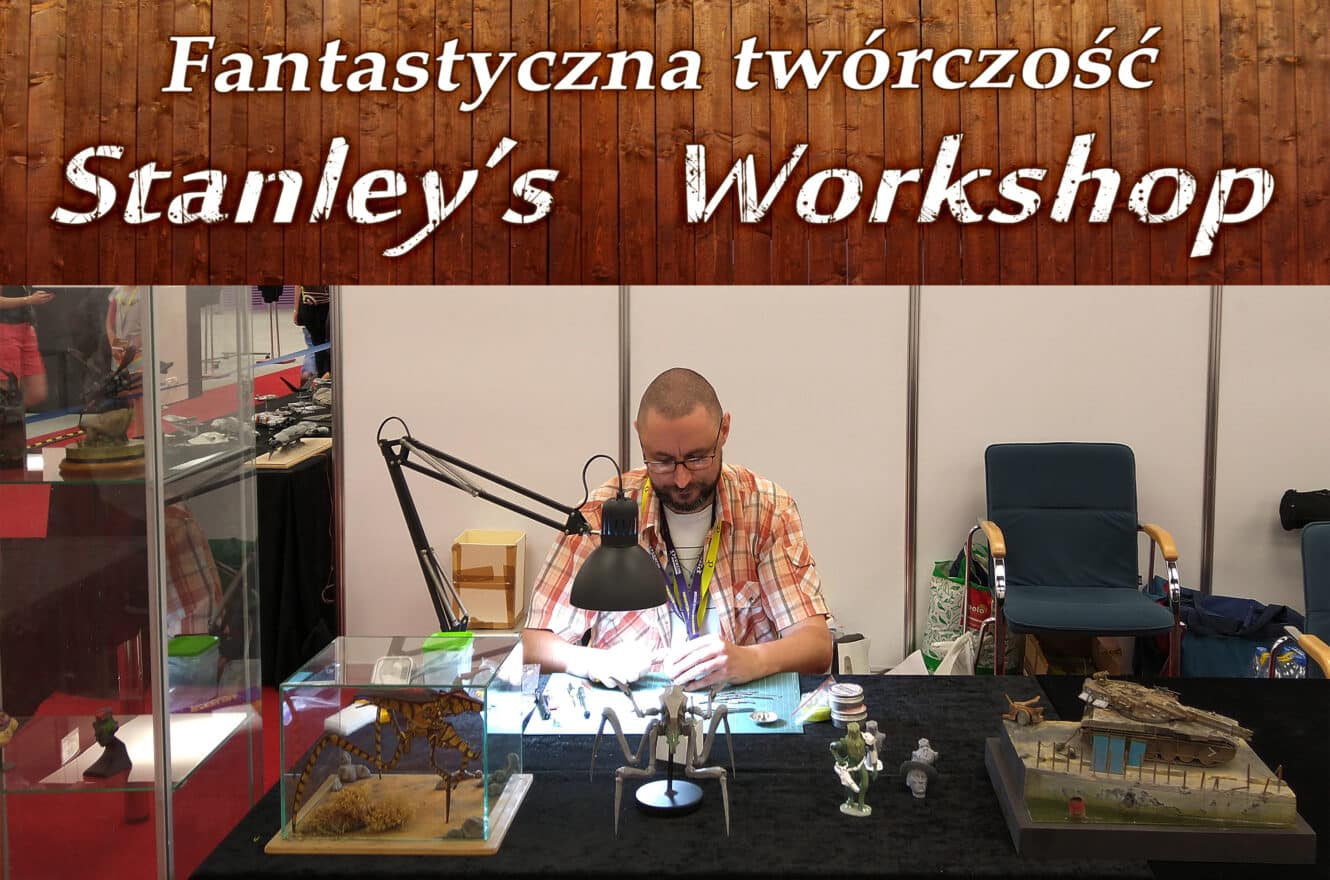 This time, we have an exhibition that offers more than just viewing models and exhibits—you'll also have the opportunity to see how they are created! It's a real treat for fans of handicraft work.
At the exhibition, you will see a collection of original models, dioramas, and figures, and witness live demonstrations of their creation from scratch! For the first time, you will also see an exhibition of LEGO robots and vehicles.
What exhibits will be showcased at the exhibition? A wide variety! There will be models, busts, and figurines created from scratch. You'll see finished and painted models, as well as prototypes and models in progress. Additionally, there will be custom-built LEGO robot figurines. Compared to previous years, nearly 80% of the exhibits will be new or in progress. One thing is for sure, there will be plenty of attractions—live workshops, conversations with the creators, and the opportunity to try out various modeling techniques!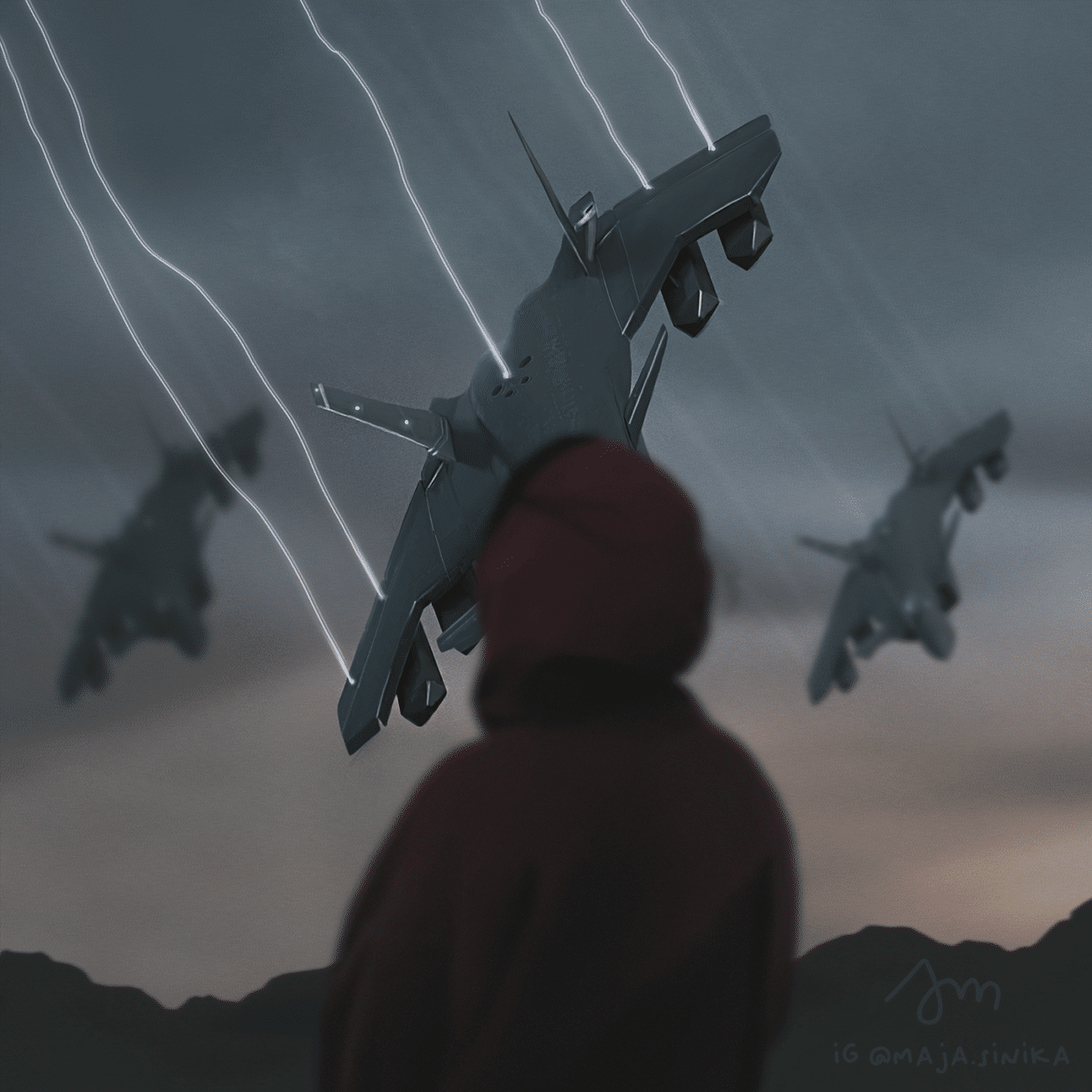 This exhibition is for fans of much darker atmospheres who enjoy unconventional and unsettling illustrations. The artworks depict surreal visions of a dark and strange world, reminiscent of science fiction films or novels.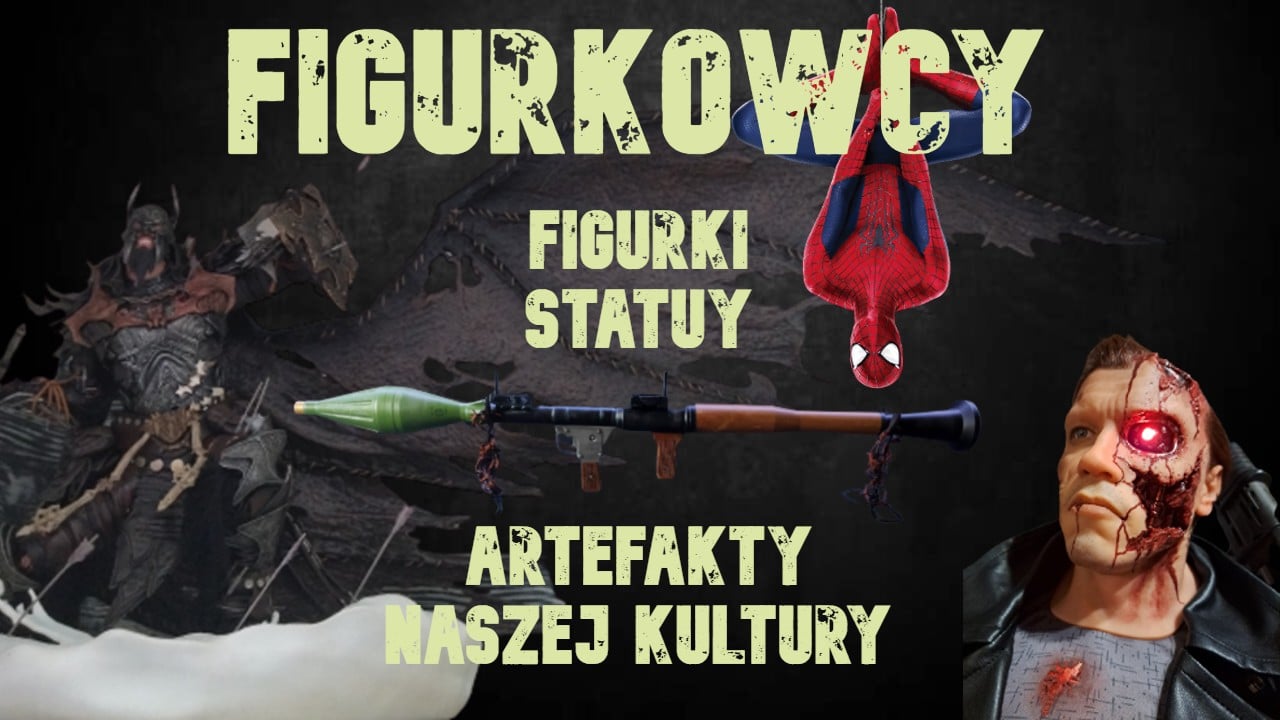 Are you obsessed with figurines? Then the Collectors' Figures exhibition is perfect for you!
You will have the opportunity to see it thanks to a newly formed group dedicated to the subject of large-scale figurines and action figures. What does that mean? You will find statuettes ranging from 1/6 scale all the way up to life-size 1:1 scale!
This group brings together people of all ages who share a passion for collecting various artifacts from our culture.
At this year's Pyrkon, they plan to showcase figures, vehicles, and statuettes related to the DC and Marvel universes, as well as cinema classics like "Terminator" and "Terminator 2." The items on display come from the private collections of collectors from all over Poland, who have chosen the greatest gems from their collections.
But the experience doesn't end with just looking! This year, the Collectors' Figures group has prepared a few surprises for you! These include the opportunity to take a photo with the Joker, try on his mask, and watch presentations of various collections on a projector.
And these are just a few of the fantastic attractions that await you there!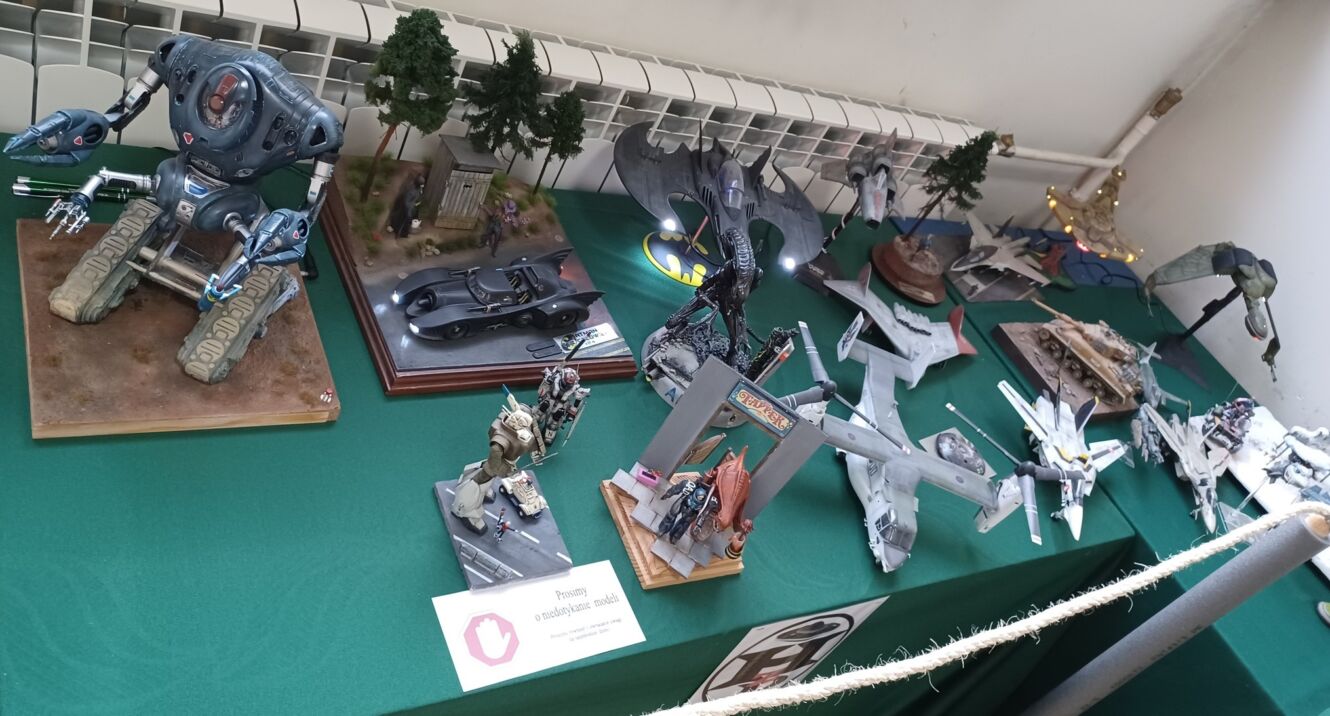 Hangar with Monsters is the name of the exhibition because it represents a space where you can store anything, from tanks to spaceships. Why monsters? Because they don't limit themselves to creating anything that exists. The motto of this exhibition is "modeling is not just about perfect representation of reality!" Here, you will see models and figurines from various corners of the fantasy world.
The Hangar with Monsters is created by people who are eager to share their unique vision of the subject or their alternative approach to well-established themes (such as What-if modeling). Most of their works are created using different techniques and their mutations (including scratch-built models, 3D printing, props, kitbashing), so every enthusiast interested in this type of hobby will surely find something interesting.
Furthermore, if you have models or figurines that didn't turn out as expected but you still love them, Hangar with Monsters will do its best to help you! They can offer advice and even bring them to a better state, time permitting.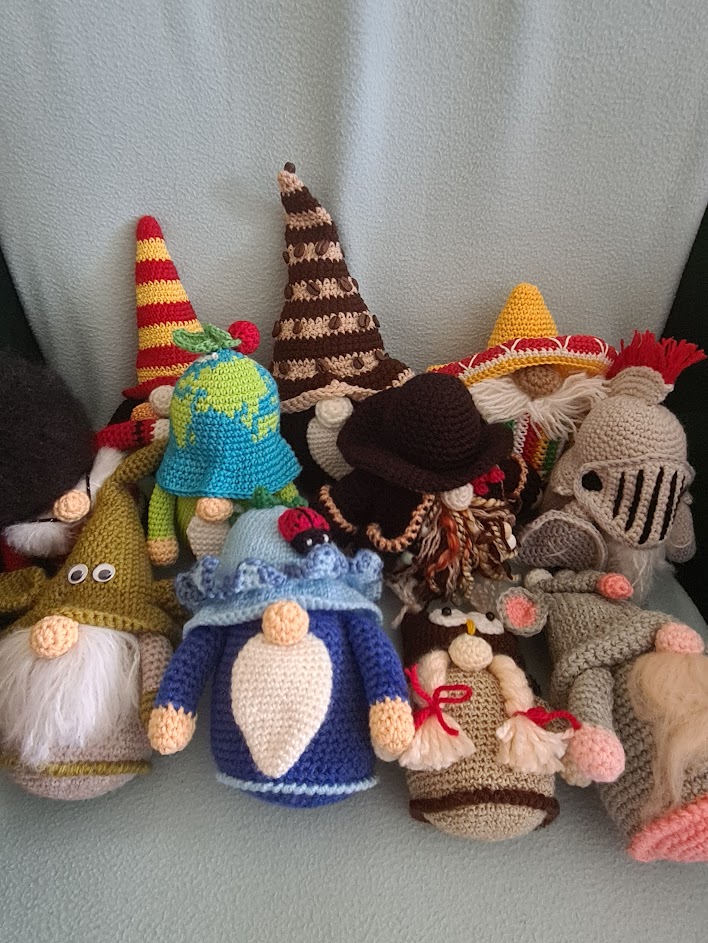 Do you remember the crocheted Assassin's Creed costume? Or perhaps the crocheted Disney princesses? This year, Mrs. Jadzia from Heartwork is returning with new ideas!
During the upcoming Pyrkon, you will see… an exhibition of crocheted gnomes! It's an extraordinary presentation of handmade toys that will surely capture the attention of all craft enthusiasts and gnome fans.
At the exhibition, you will admire a wide variety of gnomes. Each one is crafted with meticulous attention to detail and a unique style. Some of the gnomes will be holding additional accessories such as beer mugs, books, sticks, and much more.
You will also come across gnomes dressed up as characters from your favorite universes, including Harry Potter, DC, and Marvel!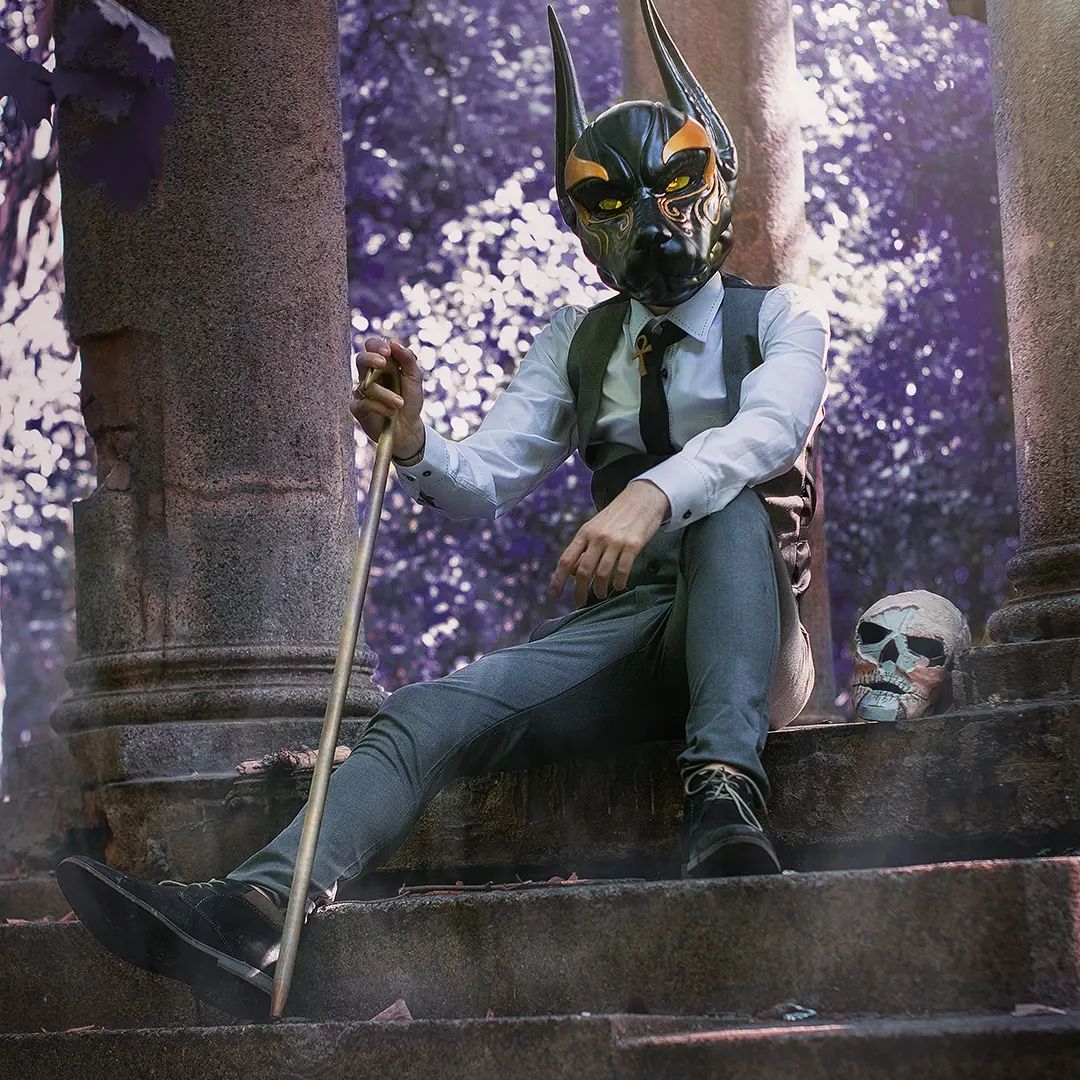 Each of us would love to participate in the Stark Expo and admire the inventions created by the brilliant Tony Stark himself… Who knows, maybe he would even showcase his latest armor?
But fear not, because in the world of exhibitions, anything is possible!
Once again, you will find Doc's booth here. However, expect even more novelties and fantastic fun!
This year's exhibition will be divided into two zones – one in the Star Wars theme, while the other will mix various universes, ranging from Marvel to Dead Space. Incredible costumes, futuristic weapons, and elements from diverse worlds await you here.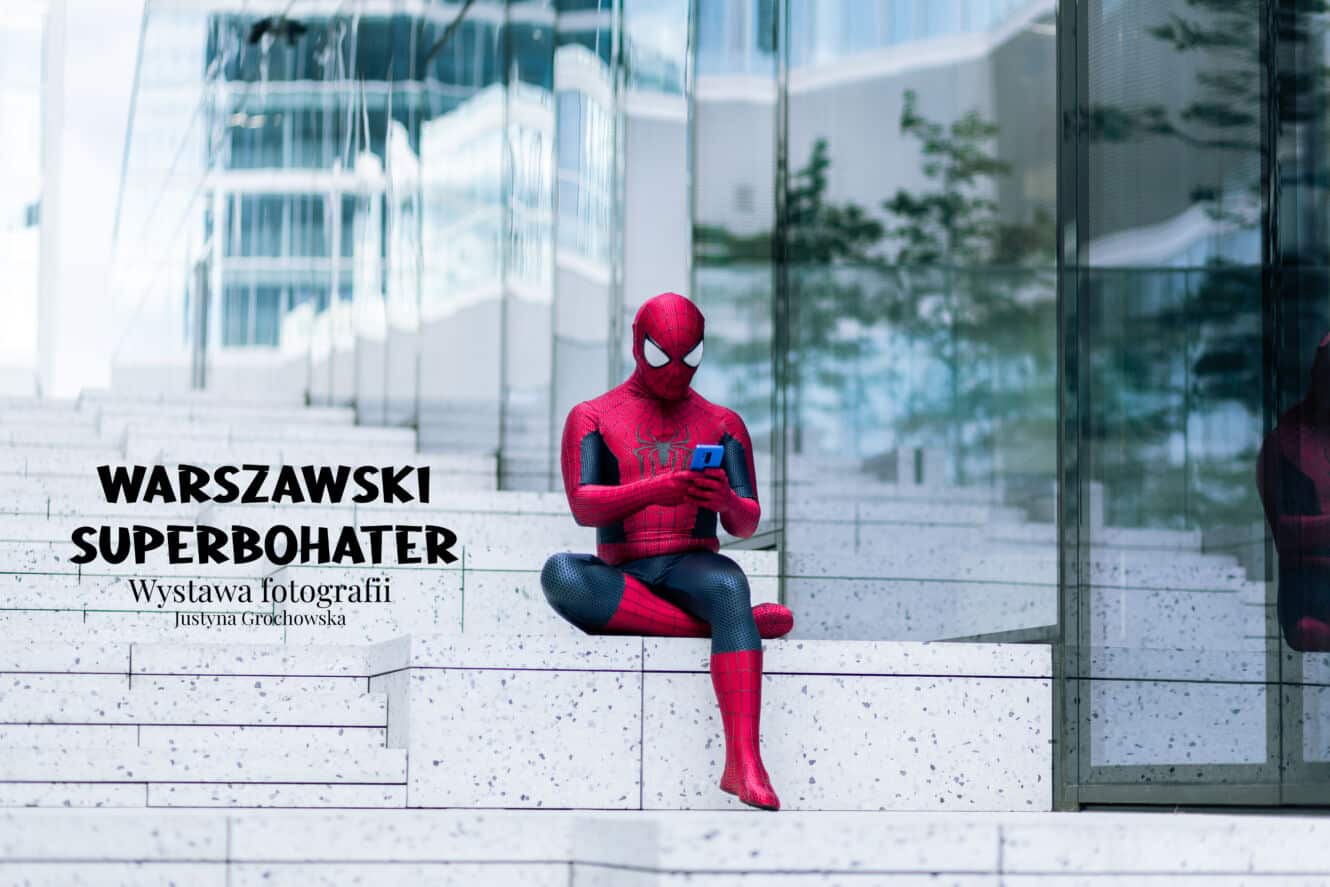 "Cosplay" is a word that encompasses much more than just "dressing up."
This will be proven to you by an exhibition focusing on a documentary photography project called "Warsaw Superhero." It tells the story of the local cosplayer community in Warsaw, drawing inspiration from American pop culture, including Marvel, DC, and Star Wars. You will find portraits of cosplayers taken in iconic locations throughout Warsaw.
But who are these people from Warsaw? What does this project mean to them? Why do they engage in cosplay, and what benefits do they derive from it? You will find answers to these questions and more at this exhibition!
Fantastycznie się składa – the youngest collection of LEGO models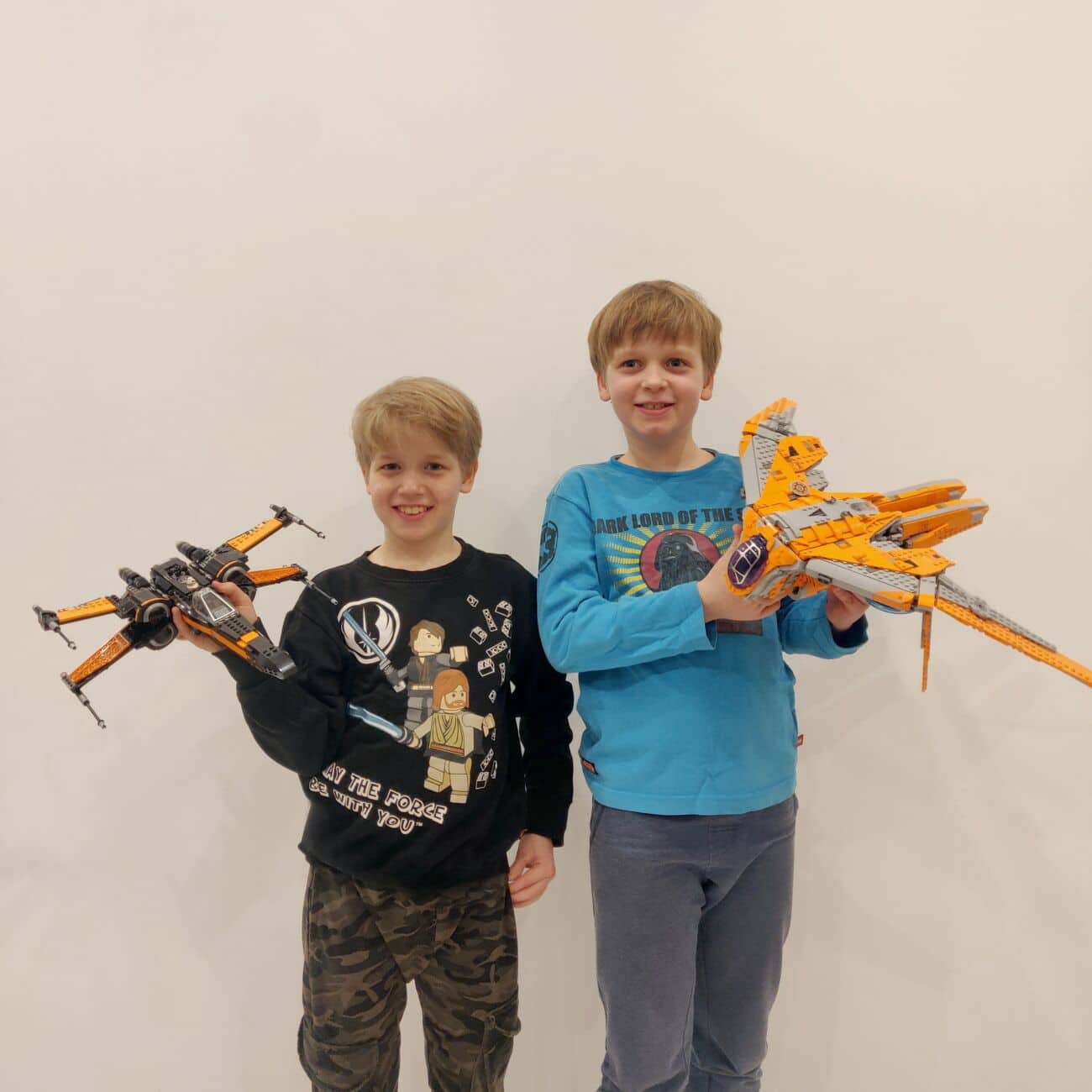 Get ready for a dope journey into the world of LEGO bricks, where our youngest (8 and 9 years old) exhibitors in the history of the Convention will present their fantastic models!
You can witness the beginning of a wonderful adventure of small constructors, who, admittedly, still rely on ready-made instructions, but in a moment will enter the limitless world of their own technical thought. From charming micro-scale ship models to detailed replicas of iconic and amazing vehicles.
This is a must see!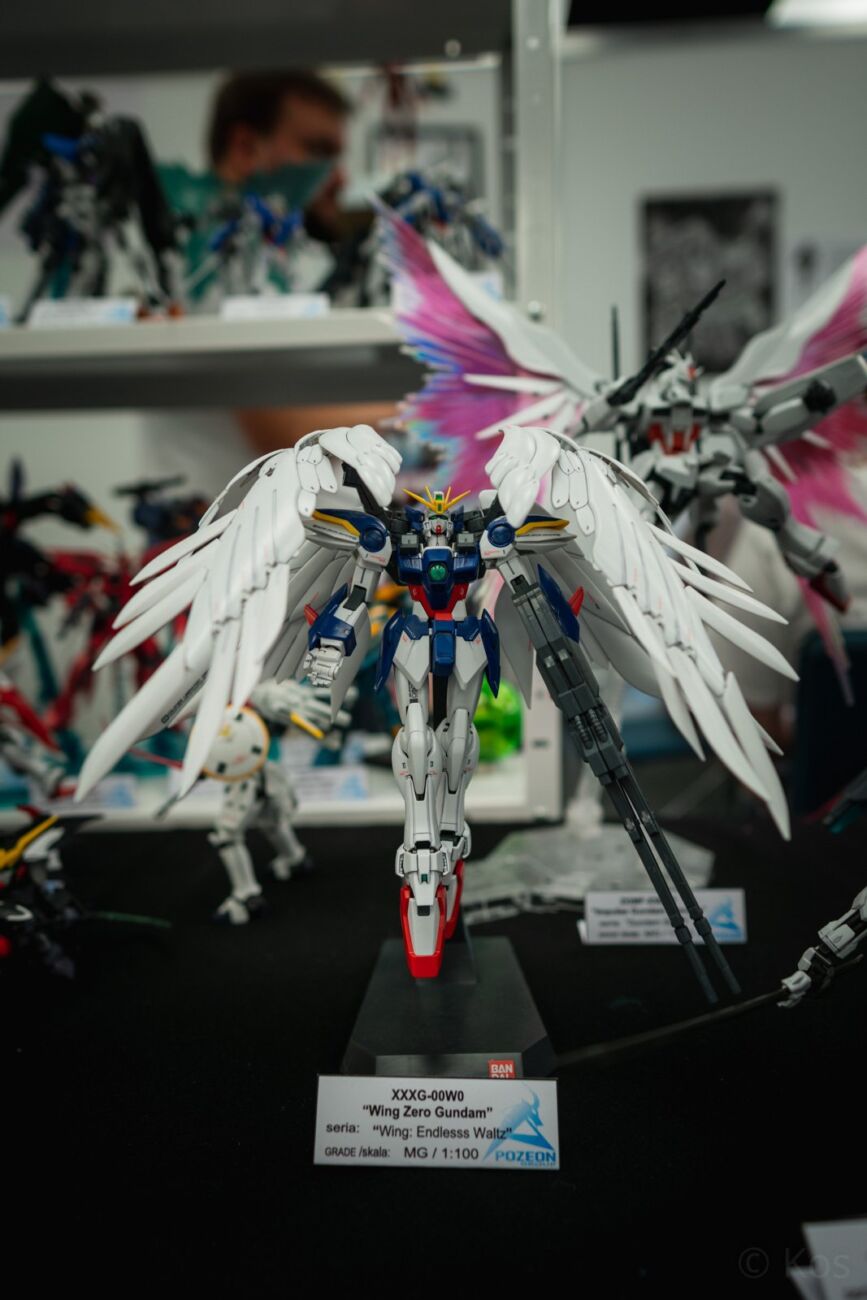 Enter the world of futuristic fighting machines and meet the biggest stars of the Gundam universe! In this exhibition you will see models from the iconic RX-78 to the mighty Perfect Grade Unicorn Gundam, from nameless mobiles to famous hero machines. You'll get all dreamy by the robo-girls and other Evangelions, and see spectacular models of battle suits from Bandai.
But that's not all there is to it! You will have the opportunity to experience how these remarkable models are made, see the construction process and learn about the techniques that make these effects possible. It's a place where reality intersects with fantasy, and the future with the present. We look forward to seeing you!
Here is where fantasy and reality meet! Here is a place where you can admire art in the form of sculptures, pedestals and full-size statues. You'll also meet realistic mannequins of characters like Snoke, Yoda and Maaz, which look like they came straight off the movie screen!
But that's not all, as there will be an opportunity to participate in live hyper-realistic head sculpting during Pyrkon!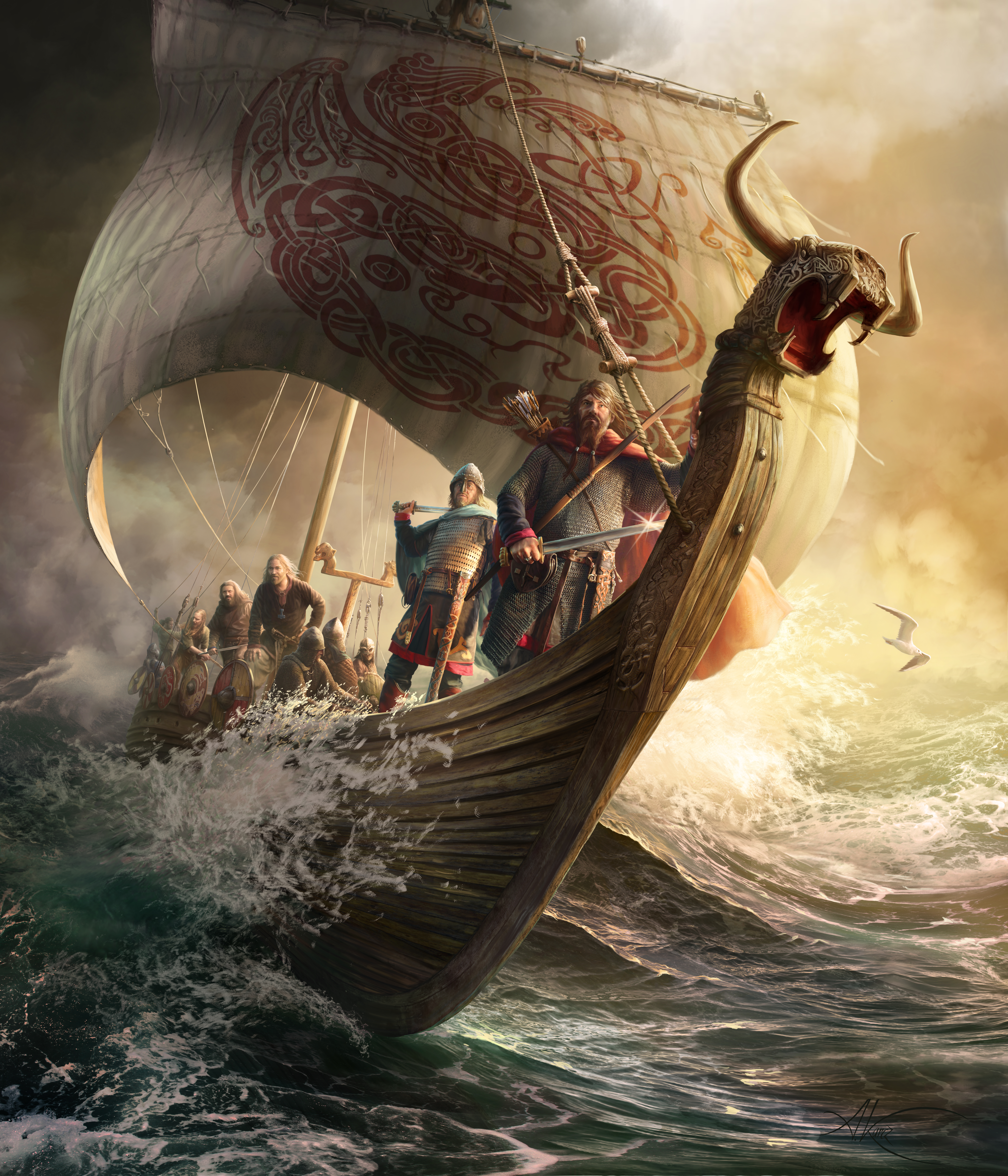 Among the extraordinary artists of the Collection and Art Exhibition there will be Alexander Karcz – an artist whose unique works will enchant everyone!
Born in Zgorzelec, he now lives in the town of Pieńsk. A graduate of the State Higher School of Fine Arts in Wroclaw, over the years he has honed his skills in oil painting and polychrome, presenting his works in exhibitions at renowned institutions such as the BWA Wroclaw and Alliance Française Antananarivo (Madagascar).
Currently, Alexander Karcz uses digital graphics as an illustrator and concept artist for many well-known companies, such as "Badger's Nest", "Lucrum Games", "Hex" and "Fantasy Flight Games". But that's not all – Aleksander Karcz is also an illustrator of children's books, publishing in "Wydawnictwo Dolnośląskie", "Siedmioróg" from Wroclaw and "Publicat" from Poznan. At his exhibition, he will present his best works, which are sure to take your breath away and are an unforgettable experience.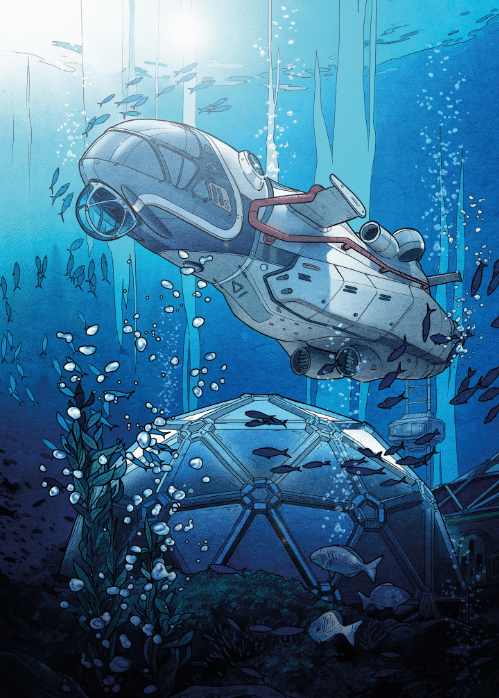 In the realm of imagination, among the fantastic exhibitions at Pyrkon, will be Piotr Sokołowski – a master illustrator who designs book covers, magazines and graphics for scientific websites. His unique works in the genres of science-fiction, fantasy, horror and poetic surrealism are engaging and delightful. Each of his graphics is an explosion of dynamic energy, rich detail and extraordinary invention. In the Collection and Art Exposition hall, Piotr will present his works from the "In Hydropolis" and "Five Kingdoms" series, as well as other fantastic projects from his vast imagination.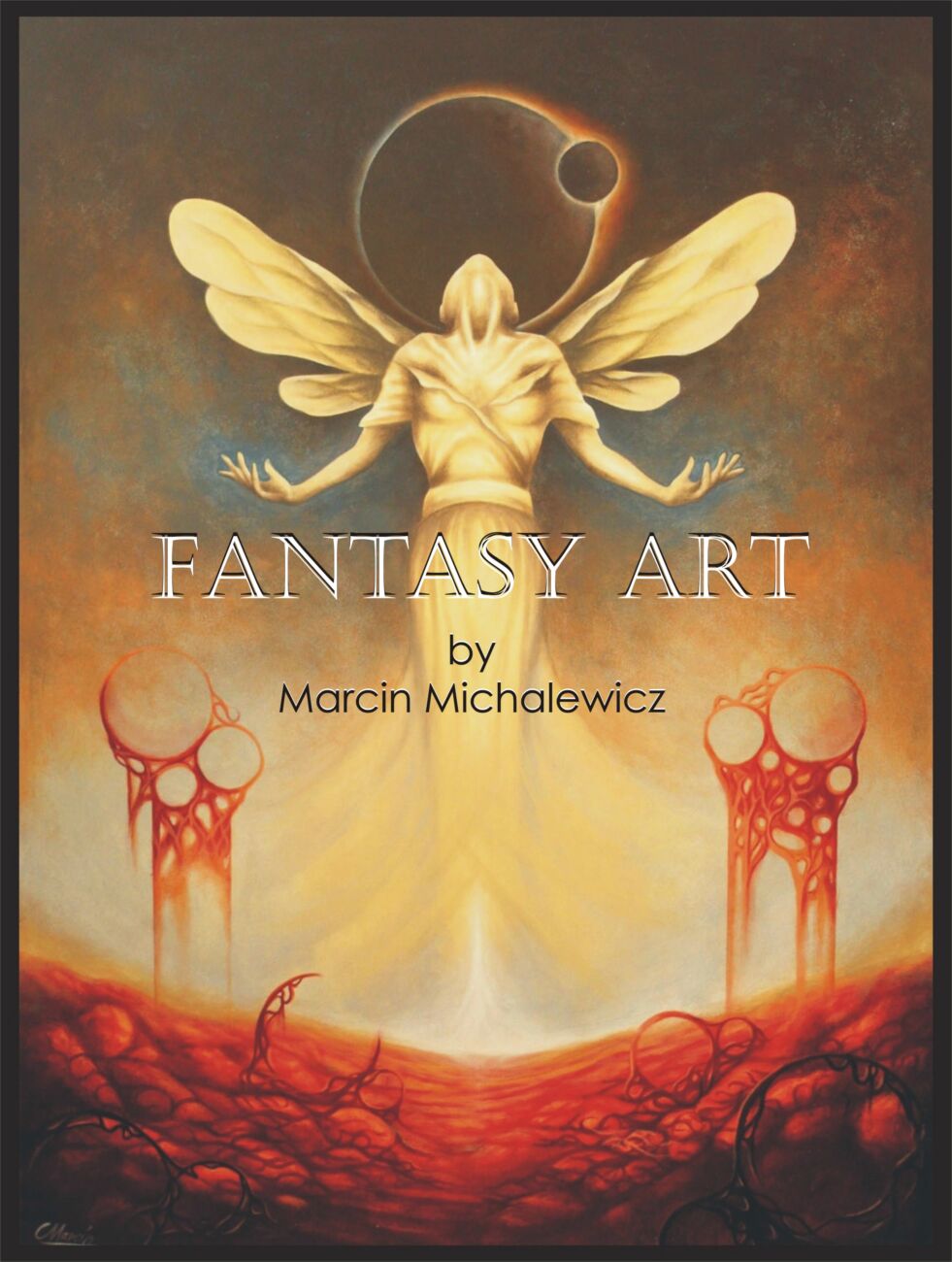 Imagine works that subtly combine darkness with tenderness. Surrealism with fantasy realism. It is here that Pyrkon participants will go on an amazing journey, where the word "artistry" takes on new colors. 
Come in droves to see the works of Marcin Michalewicz, a Polish painter, illustrator and graphic artist. A multiple award and honorable mention winner, he shows his works in group and solo exhibitions in Poland and abroad.

Figurines, more figurines and even more figurines! Bigger and smaller ones alike, from games, movies, TV series… there's even something there for all you LEGO fans!
Lots of goodness awaits you at the MAX – figurine collection exhibition! This place was created to combine two fantastic hobbies – collecting statuettes and photography. This means that what you will see here are not only figurines, but also photographs, showing models of well-known and well-loved heroes in the open air. You can be sure that some of the photographs look like frames cut from a superhero movie, and the figurines immortalized in them come to life!
You can also come and bring your own figurines and talk to the founder of the project, and who knows what this fantastic meeting will result in!


Are you looking for things that are unusual and full of attention to detail? If so, this exhibition is your must-see. Come see the amazing costumes from the fantasy world!

On the mannequin on the left – a proud soldier of the Empire. On the right – a chaos cultist. Elven guerrilla Scoia'tael will be standing someplace as well, and this is just the beginning. The showcases will present outfit accessories, which are designed to complement the overall look of each of the creations you will find there.

Come and feast your eyes on the details, have a word or two with the makers of these beautiful costumes and get a little inspiration. We welcome anyone who likes to see unusual things.
SW Armory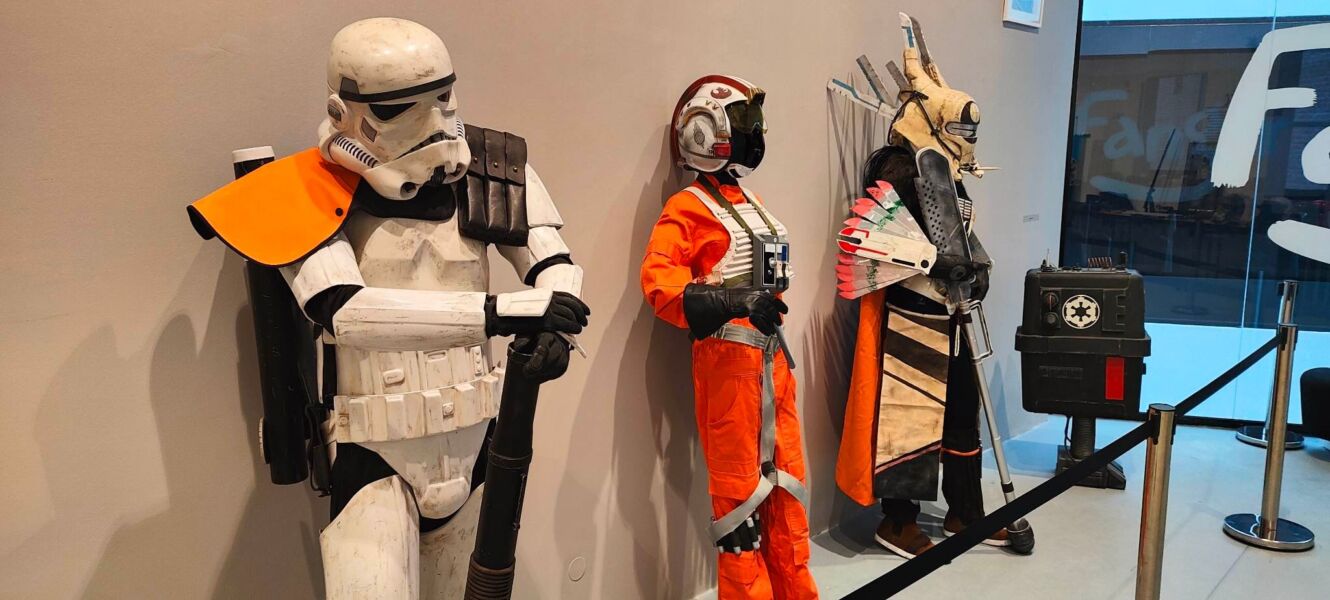 Visit the SW Armory Exhibition and transport yourself to the world of "Star Wars" along with the characters straight from the movie! See extraordinary armor, helmets, replica weapons, lightsabers and many other fantastic exhibits in 1:1 scale. Enjoy finely crafted paper models of vehicles and machines from the Star Wars universe. This exhibition is a unique opportunity that every fan of the universe must seize. Come and immerse yourself in the world of "Star Wars"!

On the occasion of the 20th anniversary of the Polish Garrison 501st Legion, an extraordinary exhibition will be prepared, which will take you to a distant galaxy, where you will feel like the heroes of the "Star Wars" movies. There you will find replicas of helmets, weapons and models, and meet members of the group in full gear.
Polish Garrison is part of an international organization, Legion 501, with nearly 14,000 Star Wars fans from more than 60 countries. Their goal is to spread awareness of the series by participating in events and promoting professional costumes of characters associated with the Galactic Empire, such as stormtroopers, military personnel, bounty hunters and even Sith Lords. Their exhibition will also feature the activities of sister organizations such as the Rebel Legion, which brings together fans of the Star Rebellion, and the Mando Mercs Costume Club, Mandalorian bounty hunters
This is an organization that has charity and helping others at heart. Wherever they can, they bring a whiff of adventure and the universe of a galaxy far, far away into everyday life. They also try to give back a part of themselves to those who lack the FORCE and expect HELP instead, so that everyone's lives are better.

For Pyrkon attendees, especially those visiting the Collection and Art Exhibition and their exhibition, they prepared a "Star Wars" knowledge contest and small gifts related to Polish Garrison. See you soon!

It's already a (not-so-small) tradition that you'll find an exhibition by Figure Geeks in the Collection and Art Exhibition hall. Here you will find a multitude of miniatures of your favorite childhood heroes, but also new ones that you may have seen in blockbusters of recent years. Take photos with props from Marvel or Star Wars. The Geeks crew will tell you about the figurines themselves, the brands and interesting facts related to them.
Don't be afraid to ask – after all, figurines are for everyone, not just hardcore fan