Fantastic exhibitions

Fantasium Creatium is a place, where fantasy meets art. Here you can find exhibitions featuring not only well-known and iconic universes, but also emerging projects, all maintaining fantasy qualities.
If you are wondering, what could anyone do with artistic abilities and a head full of ideas, here you will find the answer. In Fantasium Creatium artists from the whole country present their amazing works. Paper models of spaceships, cardboard weapon replicas, upcycled gadgets – the only restraint is artists' imagination. Only one thing is certain, this is the place, where you can feel the fantastic spirit of distant universes and get truly immersed in Fantasy.
Interactive exhibitions- Experience the fantasy on your own!

There are more than one reasons for Fantasium Creatium's uniqueness. It's not only a place where you can look at the exhibited projects, but also pick them up, talk to artists or take pictures together! If you have ever dreamt of holding blasters straight from Galactic Empire or taking picture with Princess Leia (even if it's only a sculpture), you came to the right place. However, remember to ask if authors don't mind touching their works. Not every model is capable of lasting even the most careful convention attendee.
What is where- a word about thematic zones

Fantasium Creatium is divided into thematic zones. If you're interested in a specific theme, you don't have to search for your desired projects around the whole venue. All exhibitions of the same theme are arranged in one place. On Pyrkon 2018 you would find i.a. Science Fiction zone (with i.e. Star Wars, Star Trek, Transformers sub-zones), Fantasy, Science or Emerging Artists zones. Comprehensive description of all zones and exhibitions will soon appear on our website.
Emerging Artists Exhibitions

On Pyrkon we value creativity and would like to give chance of public debut to all creators. That's why we came up with a separate zone, where upcoming artists could display their works. If you are producing outstanding pieces, yet haven't had a chance to exhibit them on any conventions or festivals, it could be a perfect occasion, to present those to wider public. If you decide to exhibit your work with us, we'll provide you with:
U-shaped exhibition wall
two benches
two chairs
2 festival passes (one for the author and another for accompanying person)
Submit an exhibition
Feels like it's something for you? Do you want to have your own display in FantasiumCreatium? Or maybe you have any questions? Let us know by mailing the exhibition section organizer: anna.sikorska@pyrkon.pl
Authors of the best exhibitions would be awarded!
Notice that displayed works must be made by you! We don't accept store-bought collections.
Exhibition descriptions
Sci-Fi Zone

Stanley's Workshop
Fantastic Creations Workshop of Stanislaw 'Locker'Czarniecki is a place where anyone can find something interesting. Stanley makes from scratch fantasy and Sci-Fi themed prototypes, sketches, models and figurines. During Pyrkon you would be able to see the process of model-making or sculpture carving. The author will be glad to explain used techniques and show how to handle precise tools.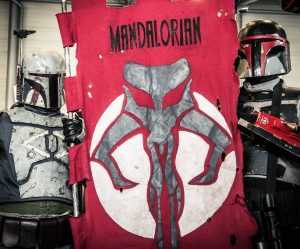 Mandalorian Mercs Costume Club
The Mandalorian Mercs Costume Club are an international non-profit costume organization who, apart from doing charity work, are involved in designing and creating costumes from the Star Wars universe. It's one of 3 elite costume organizations with a LucasFilm license, and it has almost 2 000 members all around the world.
WWW, FB fanpage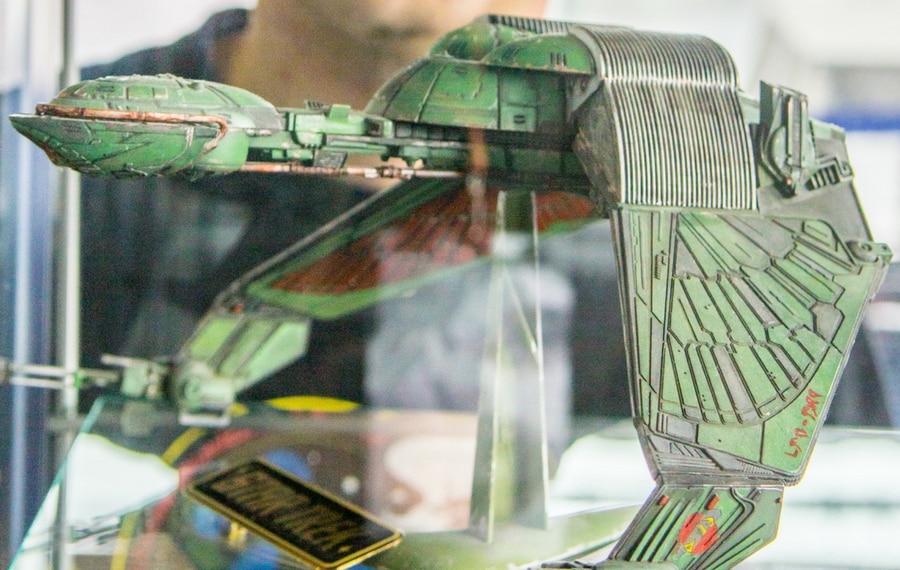 P.I.S.O.F. Science Fiction exhibition
The Poznan Institute of the Space Odysseys Fans (polish P.I.F.K.O. = beer) as every year,  invites you to the Science Fiction exhibition. In addition to the largest individual collection of Star Trek in Poland (which is even bigger this year), models from such series as Star Wars, Seaquest, Tron or Batman, and others will be presented. The exhibition includes various types of spacecraft models, books, weaponry, communicators, and various items produced under a license and those fan-made. Of course, apart from the exhibition, we will also be there 🙂
BDJ (Dollfie) dolls and Queen Amidala's costumes

The wardrobe created for Natalie Portman, who portrayed Queen Amidala in Star Wars, is incredibly impressive. Its creators used expensive fabrics, searched for inspiration in traditional outfits, and very often used typical elements of historical outfits from different eras. Altogether, around 40 different costumes were made, and so no one should be surprised that in every new scene with Natalie Portman we can see another unique outfit. You can view this richness of colors and forms with your own eyes at the exhibit prepared by Aldona Talarczyk. She's an artist who for several years has been recreating Queen Amidala's costumes, spending a lot of time on each one.
Although so far she has only managed to recreate a small part of Her Majesties wardrobe, every model is guaranteed to hold your attention.
What's more, this time you will also be able to view the BJD (Dollfie) collection, which Aldona has been collecting for almost 10 years, and dressing them in handmade and masterfully ornamented outfits. You are all invited

Rafał Skaza's sculpture reliefs
There's never been anything like that on Pyrkon – we invite you to the biomechanoid exhibition. Among others there will be sci-fi, horror, fantasy and post-apocalyptic sculptures. Together with RafałSkaza you will cross the borders of imagination.

Piotr Mintura's Star Wars figurines
We invite you to a fantastical exhibition of Piotr Mintura's works in the Star Wars universe. The author of the exhibition will present to you figurines, models and Cosplays from Star Wars. All of the works presented are his own job, from the beginning to the end.
Fantasy Zone

Paper, crochet and stone
Three women, who live in three different cities, invite you to one amazing exhibition of handicrafts. They will show you jewelry inspired by nature and worn by Padmé from "Star Wars", sheets of paper and paper pieces inspired by the popculture and crocheted characters known from popular cartoons. Throughout Pyrkon you'll have the possibility to learn how to create beautiful sheets of paper and crocheting. The teachers will always be at your call and ready to share their secrets and techniques!
Dream Frames Art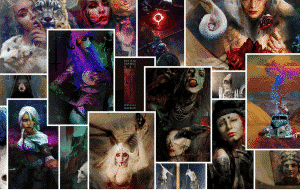 Dream Frames Art – paintings by Mateusz Twardoch. The artist will traditionally present something from his world of symbolic fairy tales, as well as pop cultural settings of the post-apocalyptic times and fantasy. Most of the works will have its exhibition premiere on Pyrkon, including a painting presenting a new style for the artist inspired by the Land of the Blossoming Cherry.
Facebook, Instagram, Art Station, Etsy
Maniacy Figurek and Meetopoint Transofmers

During this year's Pyrkon ManiacyFigurek.pl will return with a new, even richer collection! Do you want to feel like you were young again? In that case, we invite you to a fantastic exhibition prepared in cooperation with Hasbro Poland!
During the event you will see countless figurines of your favorite heroes issued in last thirty years! A variety of characters from the Transformers, Marvel and G.I. Joe, Dragon Ball and many more! What exactly?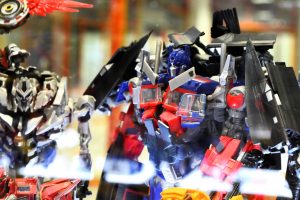 Transformers – Among the Maniacs collection you will find thematic exhibitions dedicated to various eras of Transformer's rich history: you will get to know the second generation of Transformers, Transmetals from the Beast Wars series, heroes of the Unicron Trilogy and characters from the movie universe. In addition to them, the evolution of the plastic incarnations of the Decepticon leader – Megatron, the clash of the Titans, the largest Transformers released so far, unique, hand-made customs and trailers of new figurines that will soon appear on store shelves. You cannot miss it!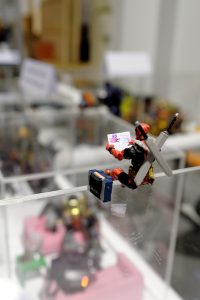 G.I. Joe – Knowledge is the key factor on the battlefield, so this year we will take a close look at … the commas of the Joes. As a part of the exhibition, the Cobra training ground is available for you, located near the huge Terrordrom, where under the watchful eye of the Cobra's top brass over 100 recruits are practicing. In addition, you will see the evolution of figurines from 1982 to 2018, you will get to know some interesting facts from the world of Joes and not only. The G.I. Joe squadron and their parachute group will be watching over from above.
Marvel – This year we will have an epic fight X-Men vs. Sentinel, another edition of the struggle of a group of mutants led by Wolverine and Cyclops in a clash with a ruthless machine! There will also be attractions to celebrate the premiere of the movie Avengers: Infinity War, including figurines of heroes and the gadget in the form of the Infinity Glove, in which you will be able to take a photo as a souvenir.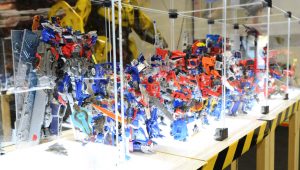 Dragon Ball – Are you sad because of the approaching end of Dragon Ball Super? The SH Figuarts collection will help to improve your mood a bit. The stand will be waiting for you with a diverse mix of characters from the latest version of anime such as Beerus, Whis or Goku as well as the duel of classic heroes Cell and Gohan. A powerful and one of a kind dragon Shenron will be also at your service, just say your wish to him and maybe he will fulfill it!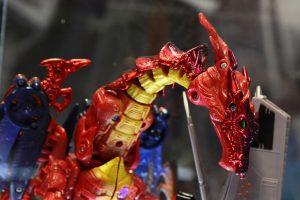 ManiacyFigurek.pl is more than toys. They are fandom of enthusiasts gathered around such brands as Transformers, G. I. Joe and Marvel. This year you can become part of this fandom, taking part in numerous attractions organized as part of the official Transformers Meetpoint exhibition. This is a place created in cooperation with Hasbro Poland. There are waiting for you: contests, interviews, discussion panels and many other attractions for fans of large robots and not only. That's why we encourage you to visit a stand by Maniacyfigurek.pl and stay with us for longer. See you at Pyrkon!