Fantastic universes

This exceptional hall is a space, where various fantastic universes join together to greet all visitors with open arms… And to draw them in.
Two words, one place, and abundance of emotions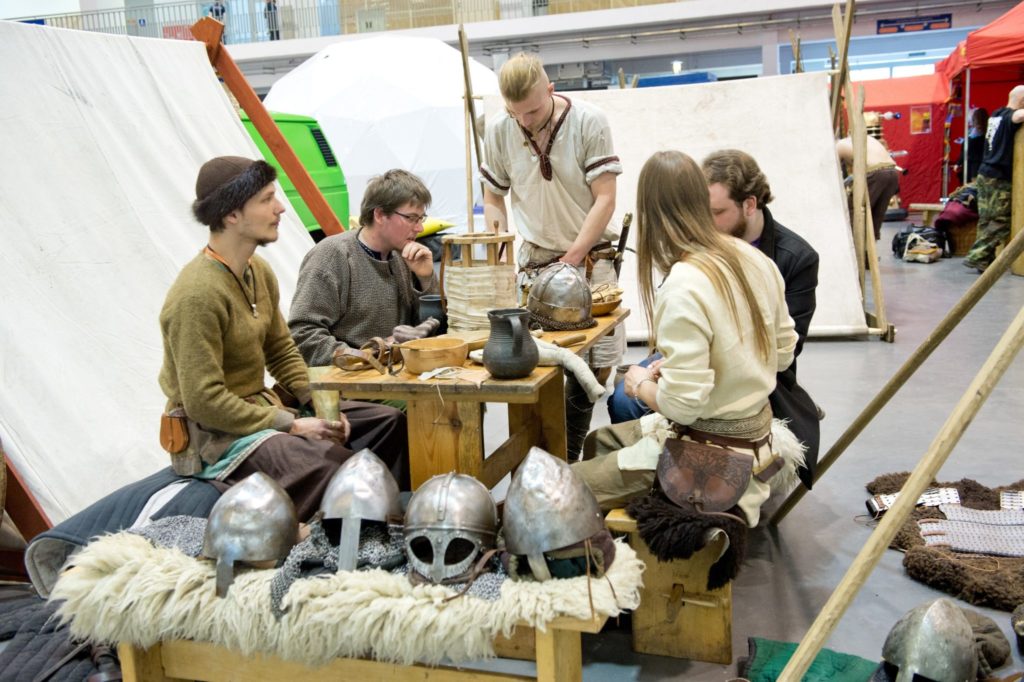 If you want to discover new worlds, where reality is completely different from ours- well, then you're in the right place. The Vikings will invite you to their table with pleasure, and tell you long stories about their battles and triumphs. The post-apocalyptic survivors will share with you everything they can, and a handful of caps will give you prestige. Maybe you'll even meet the carefully hidden Elves, with whom it's hard not to rejoice, even when Sauron is brought up. The Sailor Senshi will show you the kind of magic you didn't know existed, and the Putty Patrollers… Ehem, Putties are something to see for your own self.Believe me, you won't regret it.
The fantastic arena
And if you still haven't had enough, then turn your eyes to the Arena. Every year it witnesses numerous struggles of great warriors, arms training, dance schools or fantasy sports events. Previous years brought us clashes of gigantic armors, Quidditch and Jugger matches, as well as the performances of Japanese idol groups. So what can you expect this year? Absolutely everything.

Camp Eagle
Camp Eagle is a tactic zone connected with Marcin Przybyłek's stories of the White Eagle series. Our scouts report there is a tent, a Dażbóg transporter mock-up, banners, ork heads, weapons and much more of climatic trifles! There are also subjects from homo sapiens species and (sometimes) homo viridans! We warn you that you will be visiting the camp at your own risk and responsibility, be aware that you expose your body and mind without orders and support… If you encounter suspicious bottles (with ork blood) or other utensils, you should avoid them and not prod them, just report to our scouts! Otherwise, the consequences can be terrible, terrible, terrible (have we already told you it can be terrible?). Well, you can't say we didn't warn you! March off and For the Glory of the Stronghold!
Raven Warriors' Brotherhood

The Raven Warriors' Brotherhood – an all-Poland reenactor group with a strong base in Pyrlandia, which wouldn't miss Pyrkon for anything. These Vikings are better from the on-screen ones in every way (though you can of course argue with that…), and a huge convention is to them a regular day… You can see them in the medieval encampment or on the arena doing many regular, everyday activities! Like what? For example: WAR, repairing armor and camp equipment, WAR, medieval games, War, and other actions generally connected with the Vikings, but let's not get into the gory details here – after all, minors might be reading this.
Attractions
ancient games
warrior equipment presented on stands
Warhammer 40k

On the order of His Majesty the God-Emperor, we have come to spread His word. In our sacred mission of protecting the innocent and destroying the xenos, we find glory. Be glad, ancient Terrans, as we are here to free you from the yoke of heresy, into which you are undoubtedly falling, We want to show you the bright future at the side of the Father-Emperor, of course if you submit to his will… We are the stalwart Champions of Humanity in the battle with demons, we are the blessed Priests who proclaim the Truth. We belong to the brave Imperial Guard, which fights on all the fronts in the name of the Emperor. The Psykers and Tech-Adepts, navigating through space and providing support during battles. We are also the leaders, the Chaplains and Commissars, who guard morality and enforce discipline in the ranks of His army. We are the Inquisitors, for whom your salvation from the rot of this world is a goal in itself, however it is achieved. Come to us, support us in the battle against chaos… or we will come to you!
Attractions
cosplay repair station with a large supply of things needed for quick fixes
RPG sessions in the Dark Heresy system
the Emperor's Altar, at which you may receive all manner of blessings and take part in religious ceremonies
quests for glory and the Emperor's rewards
lectures
RPG sessions
Warhammer knowledge contest
priest blessings
Imperial Tarot
issuing of Imperial documents
Hidden Chaos Agent game
photos, photos, photoshoots
Historical European Martial Arts

The ARMA-PL is an association that organize people interested in recreating the Historical European Martial Arts, known as HEMA of the Middle Ages and Modern Times. Their goal is to study and test in practice by sparring, in combat with sharp swords and fighting with weapons made of wood and steel – fighting systems available for us in historical source materials, as well as to faithfully reproduce them and enable how to teach them safely. The HEMA encampment is created by ARMA-PL of Poznan, in which we train primarily how to fight with long swords. Our training arsenal contains one-handed swords, long knives, rapiers, sabers, daggers as well as great two-handed swords, knights' hammers or halberds.
Attractions
mini fighting arena
stands with various weapons
Stalkers

Visit the Stalker camp and feel like you were in Chernobyl. In this encampment you will find a bar, in which tea is served from the samovar and served in metal cups made of cans, you will listen the story of the stalker from the last trip with an accompaniment of strumming guitars and you may try a stalker board games such as chess made of firearms cartridges. In the fitting room you will find accessories and equipment for stalkers, starting with tactical vests, through different types of gas masks, bags, panniers, pieces of equipment, and jackets. Everyone can get acquainted with the use of a given item as well as touch it, feel it, try it on and make a photo. The encampment has its own armory with almost every weapon – from more or less improvised white weapons and bayonets, by various types of ASG replicas, as well as AK47 without its combat features, which you can assemble and disassemble under the instructor's supervision and after a short training. Throughout the hall we will place a certain number of artifacts: strange, colorful objects of the unknown origin and use. Each of them has a sticky note stating what it is and where it should be brought. In the encampment, we examine the culprit with a dosimeter and scan from the bottom to the top, just by the way we explain the effects of radiation, we give a gun shell as a souvenir, the volunteers can also immediately take advantage of the next attraction. The encampment also has a specialist regarding scars of all kinds, which all the guests can get free of charge. There is also a crafter in the village, which improves the weapons (because they are too new and too clean) or creates an original chandelier; besides observation and science, you can ask about a lot of things and techniques or together improve your own equipment.
Jantar

The team of Piast Dynasty Warriors (Drużyna Wojów Piastowskich) Jantar will present the arrangement of the warriors' camp from the beginning of the Polish state. It will contain tents, furniture and everyday appliances modeled on those used by Prince Mieszko I and King Bolesław Chrobry. You can see warriors training before the battle, craftsmen improving their skills and women preparing food. Visitors will be able to try on costumes from the era, test their skills in handicrafts and learn more about the beginnings of Polish country.
Attractions
objects included in the Piast camp (tents, thrones, benches, tables, stocks)
reconstruction of weapons
demonstration of crafts (everyone willing will be able to try their best at this):
weaving a pattern cloth using heddle and weaving card
naalbining – making hats and socks with the thread interlacing method – based on
archaeological discoveries
creating motanka – magical Slavic dolls
manual sewing of costumes and types of embroidery
weaving decorative strings on the lancet
trying on costumes and armor as well as the possibility of fighting against a warrior with a use of safe weapon
presentation of coin minting
presentations of medieval games as well as a logical and dexterity games (if a right number of volunteers will enlist, small gifts for winning competitions are anticipated)
musician playing talharpa (as in Wardruna band)
interesting facts about history, mythology and customs prevailing in early Middle Ages in the areas of Scandinavia and modern Poland
OldTown

Post-apocalypse is the most relentless, dirtiest and freed branch of Fantasy and a cherry on this tired with life and wars cake is most definitely OldTown – one of the biggest post-apo festivals in Europe. It happens annually since 2005 on the abandoned airport grounds in Stargard. We will bring a part of it to Pyrkon. Colourful flags waving over and non-stop playing music in our village at the end of Wastelands will make you feel as if you've entered the world of your favourite video games, in the world after the third world war. Various teams from the biggest post-apo LARP will entertain you from dusk till dawn. There will be sport challenges, art shows, workshops, games, quizzes and lots of attractions. You will learn more about our Festival, take pictures with people in fantastic costumes and amazing cars, try on some worn out equipment, shoot from nerfs and exercise your brain with our 'Fortune Wheel'! Come to us for crafting workshops, where you will learn how to prepare your equipment and clothes, so they would perform best on the Wastelands; watch jugger tournaments, the most well-known team game of the postapocalyptic world; and finally – try your hand fighting with soft weapons! Our camp is always full of life, and in the evenings, you will hear live concerts from our amazing star, Raya, who will delight us with some old hits that survived to our times on vinyls…
Even though OldTown is an event for adults, we'd like to invite attendees of all ages to familiarize with the subculture.
Attractions:

• Quiz 'Which vault are you from?' – Of course you are from the vaults. Those clothes are too clean, for someone who would know how to survive after the apocalypse. You know, vault – a bunker in which people would hide from the third war. And obviously, you don't remember which one was it? Don't worry. Come to our terminal, answer some questions and the algorithms of our artificial intelligence will help you find your identity! Non-stop attraction.
• Post-apo shooting range – Do you think you'd survive more than two hours on the Wasteland? Are you a master of batter or firearm or you've never even had it in your hands? Regardless of whether you've answered those questions, visit us and try your hand at a postapocalyptic shooting range! Who knows, maybe someone will notice you in action and recruit you to CAD, the municipal police of OldTown…? This attraction requires supervision of 1-2 people. Non-stop attraction.
• 'Fortune wheel' – Maybe you're not a master of this universe, but you've seen lots of Mad Max, played Fallout and have a feeling that you have all the quotes and catchphrases all around your head? Perfect! Look at the board with missing letters and you might guess the password, we've had in mind… This attraction requires supervision of 1-2 people. Non-stop attraction.
• Post-apo photo point – Climatic wall, on the first plan tired with life and too fast rides through Wastelands car, some rubbish, canisters and… you, in an old jacket old, which remembers times before war, thoughtful, with weapon laid on your knees… Sounds good? In our camp you will take so cool photos, that your friends will ask you when is the new 'Mad Max' with you in it coming out. This attraction requires supervision of 1-2 people. Non-stop attraction.
• Live concerts- You've always loved listening to those old, pre-war hits saved on vinyls from before the apocalypse…? Do you appreciate the atmosphere of dusted bars, filled with old-time swing…? You can hear it live in here! Famous Raya Liskova, greatest artist working in Route69, will perform specially for our guests!
Rad Ratz

Rad Ratz is a motorcycle gang or, as they like to call themselves – "motorcycle enthusiasts club", travelling through Wastelands of the post-nuclear Poland on two wheels. Roar of engines, gunshots and the smell of petrol spreads everywhere they go. In the Rad Ratz camp you will not only have the chance to have a closer look at the fantastic postapocalyptic machines of the road warriors, but also sit on them and take some unforgettable pictures.
Attractions:
• Loads of motorcycles
• Photo-walls, full of post-apo shots
• Sheriff's station taken by the outlaws
Naruto

Did you think that the hype for Naruto has long been gone, that the fandom encampments have gotten covered in dust and rust? Well, you were wrong! Put on your forehead protectors and get ready to visit Pyrkon's real Naruto encampment! A team of cosplayers and artists is pulling off countless all-nighters and putting a ton of effort into giving you an opportunity to walk the streets of one of the most known places in anime – Konohagakure, or the Village Hidden by Tree Leaves.
The gates of Konoha and the majestic Hokage Mountain? Sure thing! Konohan architecture? Well, obviously! Attractions for all travelling along the Road to Ninja, or for future shinobi? Alreadywaiting for you!
Ennorath

The "Tolkien Encampment" invites every single Pyrkon attendee for a magical journey to the Middle-Earth. Meet an inhabitant of Rohan or Dale, but as well a dwarf from Erebor or a female elf from the Mirkwood. Learn to write like a true elf using Tengwar, put together a hauberk, or pose to a picture wearing an outfit right out of the "Lord of the Rings" and "Hobbit" universe. You can also test your Tolkien knowledge in a special competition and take a look at what else we have to offer in our tents and by our campfire! Feel free to talk to us about our favourite fantasy universe and its creator, as well as about the fans in Poland and all over the world. The members of Tolkien fan gatherings: "Ennorath", "Tolk-Folk" and "DrużynaPyrlandii" (pol. "Wielkopolska Team") invite you to cross the borders of The Middle-Eart together.
Attractions:
• Tengwarcalligraphyworkshop
• Creatinghauberk
• Embroidery
• Learning to playHraftenhal
• A wall for pictures + costumes to those
• Tolkien knowledge competition for beginners in the premises of the encampment
• Archery range (with safe arrows)
• Exhibition from the Tokien fan gatherings' equipment, including banners
Belle apocalypse

Belle apocalypse – life after the apocalypse can be beautiful, if you prepare for it – a didactic-climatic stand.
Each of us has encountered more or less terrifying visions of the end of the world or perhaps the end of civilization. Many times, writers, directors and game developers showed us traumatic fight scenarios between the survivors for every sip of water and every bite of food.
But what if the time after the apocalypse could be an idyllic, occasionally interrupted by getting food and taking care of your surroundings in a way just a little more complicated than everyday duties?
At our stand you will find answers to that, and many other, questions! Each person you will meet here has a comprehensive knowledge that will allow you to not only survive the time after the end of times, but also to comfortably await the revival of civilization. We will be happy to share this knowledge with you in a nice festival atmosphere. If knowledge is a force, then you can get some from us in case of the end of civilization, or just an ordinary economic crisis.
Make your apocalypse beautiful!
With us you will learn about:
• Lighting a fire with trapper methods
• Building a waterfilter
• Building and settingtraps
• handling of firearms
• Herbology
• A practicalapproach to survival
Putty Patrollers

The encampment of rebellious putty refugees from the Moon is situated in the hostile and dangerous Midhall, where a fierce conflict is fought by people (for whom the postapocalyptic world stops at rubber, steel, food cans and bad music), elves and dwarfs hidden behind a natural barrier made of a straw wall, superheroes dressed in foam armor and spandex, and magical princesses.
At first their home may seem like it was stolen from a bazaar. And that's basically true, but out of fear of its previous owner showing up, the Putties have never told anyone from which one. The borders of this Putty Empire are made up of either white tent walls with the windows covered up with last century's press, or by benches, this time stolen from the Pyrkon organizers, covered with a mystical moon cloth, which after soaking up moonlight remains just as useless. You can find all manner of souvenirs and valuables on these benches: from notices and stupid plaques, to Zordon locked up in a jar. Similar plaques are affixed to the tent walls and stand more to the side, towering like a forest above the bodies of fallen Rangers, whose number grows with every Pyrkon. Close to the benches there is also a fantastic (almost two meter tall) totem, out of which more and more Putty Patrollers emerge every year. In the deluge of awesome games and contests, you will be able to throw Velcro projectiles at images of Rangers, have your child's face painted, so that the young recruit can reinforce the Putty Empire with their strength and ideas for defeating the powers of good, and take an absolutely unique photograph with a band of aliens, who in the meantime will steal your dignity and remains of humanity – and help you become a hero of memes.
Attractions:
possibility of signing your name on the Carton of Glory
possibility of taking part in the WobloQuest
having your face painted into a Putty Patrolman
playing Velcro darts – who will hit a Power Ranger straight in the face
bowling – who can knock down all the Power Rangers
Alkochemicy

They say that war never changes. Alkochemicy, the organizers of Łyżkon – "the most important convention of autumn", would like to invite you to their café in pavilion 7A. For the whole time of Pyrkon they offer you coffee and tea, and equally warm words – about post-apo, Łyżkon, and their other activities. That is the place where you can submit to Jugger tournaments, and in certain hours ZłodziejeDusz (Soul Thieves) will immortalize you on a photo that will survive few nuclear apocalypse. You can also see them on the Złodzieje Dusz photography exhibition in pavilion 8.