Hey there! Any "Halo" enthusiasts present? You need to take a gander in the Fantasium Creatium. Shadow Land is waiting for you there, showing an exhibition of equipment from this series!
Halo? Roger!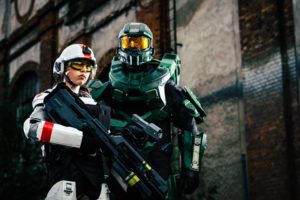 Guess it goes without saying that it's worth to gather a party before venturing forth, right? That's not all, though! It's also recommended to take reliable and indispensable equipment with you on the excursion! In the end, it's no fun to wander the wilderness in shoes falling apart and your clothes damaged, to end up in space without a space suit or be devoured by some animal, because you've left your weapon at home.
The fans of the bestseller series, which debuted in 2001 with "Halo: Combat Evolved" will have the opportunity to see for themselves. Shootings in space require not only sophisticated armor, but also effective weaponry. In Fantasium Creatium you will find a unique selection of equipment, which "Halo" enthusiasts are familiar with. Everything was hand made and is in scale! You definitely cannot miss it! You can find Shadow Land on Facebook!
Tags:
program
,
pyrkon2019eng