Maniacy Figurek and Meetopoint Transofmers
During this year's Pyrkon ManiacyFigurek.pl will return with a new, even richer collection! Do you want to feel like you were young again? In that case, we invite you to a fantastic exhibition prepared in cooperation with Hasbro Poland!
During the event you will see countless figurines of your favorite heroes issued in last thirty years! A variety of characters from the Transformers, Marvel and G.I. Joe, Dragon Ball and many more! What exactly?

Transformers
Among the Maniacs collection you will find thematic exhibitions dedicated to various eras of Transformer's rich history: you will get to know the second generation of Transformers, Transmetals from the Beast Wars series, heroes of the Unicron Trilogy and characters from the movie universe. In addition to them, the evolution of the plastic incarnations of the Decepticon leader – Megatron, the clash of the Titans, the largest Transformers released so far, unique, hand-made customs and trailers of new figurines that will soon appear on store shelves. You cannot miss it!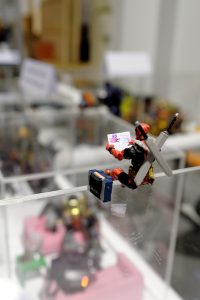 G.I. Joe
Knowledge is the key factor on the battlefield, so this year we will take a close look at … the commas of the Joes. As a part of the exhibition, the Cobra training ground is available for you, located near the huge Terrordrom, where under the watchful eye of the Cobra's top brass over 100 recruits are practicing. In addition, you will see the evolution of figurines from 1982 to 2018, you will get to know some interesting facts from the world of Joes and not only. The G.I. Joe squadron and their parachute group will be watching over from above.
Marvel
This year we will have an epic fight X-Men vs. Sentinel, another edition of the struggle of a group of mutants led by Wolverine and Cyclops in a clash with a ruthless machine! There will also be attractions to celebrate the premiere of the movie Avengers: Infinity War, including figurines of heroes and the gadget in the form of the Infinity Glove, in which you will be able to take a photo as a souvenir.
Dragon Ball
 Are you sad because of the approaching end of Dragon Ball Super? The SH Figuarts collection will help to improve your mood a bit. The stand will be waiting for you with a diverse mix of characters from the latest version of anime such as Beerus, Whis or Goku as well as the duel of classic heroes Cell and Gohan. A powerful and one of a kind dragon Shenron will be also at your service, just say your wish to him and maybe he will fulfill it!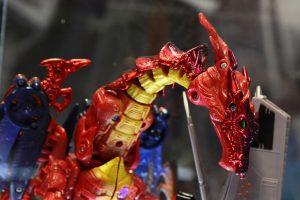 ManiacyFigurek.pl is more than toys. They are fandom of enthusiasts gathered around such brands as Transformers, G. I. Joe and Marvel. This year you can become part of this fandom, taking part in numerous attractions organized as part of the official Transformers Meetpoint exhibition. This is a place created in cooperation with Hasbro Poland. There are waiting for you: contests, interviews, discussion panels and many other attractions for fans of large robots and not only. That's why we encourage you to visit a stand by Maniacyfigurek.pl and stay with us for longer. See you at Pyrkon!