We all know that after a weary day you need your batteries recharged. Pyrkon veterans know perfectly well that it's not always easy to find a place in the Sleeproom. Looking for an appropriate accommodation keeps you up at night? If you like pineapple, but you don't really feel like worshiping it in the middle of the night, we have something just right for you!
SOLD!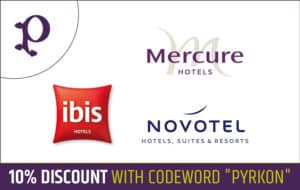 In cooperation with the ibis, Novotel and Mercure hotel chains we prepared a special offer for those of your arriving to Pyrkon from faraway lands. With the codeword "Pyrkon" you will get 10% off accomodation in the following hotels:
Ibis&Novotel Poznań Centrum,
Novotel Poznań Malta,
Mercure Poznań Centrum
You will have no problem getting to the Poznań International Fair from any one of those. Whether you decide to use public transport or simply walk. They guarantee a very comfortable stay and high standard of services provided. Unlike at "The Prancing Pony", the only Ringwraiths or Nazgul you will find there are other Pyrkon attendees.
Answers to all your questions can be found in the regulations for the special offer. The deadline for making a reservation expires on 28.02.2018 or once all places are filled. During Pyrkon, every second of sleep is worth your weight in gold. That is why you should spend this time in the best conditions possible!
Tags:
accomodation
,
pyrkon2019eng