The University of the Arts Poznań Theater Costume Design Studio to come to the Fantasium Creatium!
That's not all of our highlights yet! Fantasium Creatium will also be enhanced by the phenomenal exhibition from the students majoring in Scenography from the University of the Arts Poznań!
Art in its purest form!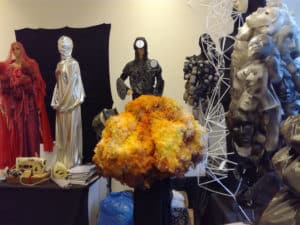 An exhibit, during which a dozen or so models of costumes will be presented, created by the students of the University of the Arts Poznań, who attend the Theater Costume Design Studio. Certainly, your attention will be drawn to the multitude of techniques used, the uniqueness of forms and unconventional approach to familiar and popular themes. A feast of colors, an abundance of shapes and diversity will surely draw your attention and prove delightful!
Extravagant. Ethereal. Fantastic. Unusual. Phenomenal. Disturbing. Many an adjective can be used to describe this collection. One thing is certain, at Fantastium Creatium you will find out that theater costumes are not only propos, necessary to capture the mood of a given scene, they are art in its purest form.